Du 7 au 9 février, les professionnels de la mode se retrouveront à Première Vision Paris pour la conception et création de leurs collections printemps été 2018. En plus des six métiers majeurs des matières et services à destination de la mode mondiale – fils, tissus, cuir, dessins, accessoires et confection – Première Vision Paris accueille Maison d'Exceptions, espace dédié aux métiers d'excellence de la haute création que the Daily Couture visite chaque année depuis sa première édition.
Bel écrin destiné avant tout à la création haute de gamme et aux marques de luxe, Maison d'Exceptions présente des savoir-faire uniques et particuliers : des techniques artisanales en perpétuel renouveau aux technologies innovantes.
Chaque année, l'édition grandit avec une sélection internationale et variée de 27 techniques exceptionnelles toujours plus poussée, témoignant de la nécessité pour les marques de luxe de toujours innover et surprendre. Les ateliers présentent des compétences souvent rares, à même de relever les défis créatifs des designers et de marques de luxe, sans oublier l'intérêt suscité pour la maitrise de techniques artisanales comme valeur ajoutée indéniable.
Pour cette édition de Maison d'Exceptions à Première Vision Paris, The Daily Couture a réalisé quatre entretiens exclusifs d'exposants détenteurs de savoir-faire artisanaux et technologiques rares. Des ateliers et des artisans incroyables !
Ces "entretiens exclusifs" sont en ligne ici :
Yumé Péma, atelier de haute façon laser
Entretien exclusif de Mariane Léger, fondatrice de Yumé Péma, designer sensoriel et artisan d'art.
Seven Senses, start-up écolo du denim artisanal réinventé
Entretien exclusif de Andriana Landegent, co-fondatrice de Seven Senses
Bee Luxe, maison indienne de broderie d'art et d'exploration textile contemporaines
Entretien exclusif de Sanchita Ajjampur, fondatrice de Bee Luxe.
L'Orylag, l'invention d'une douceur française originelle
Entretien exclusif avec Jean Boutteaud, président de la coopérative des éleveurs d'orylag.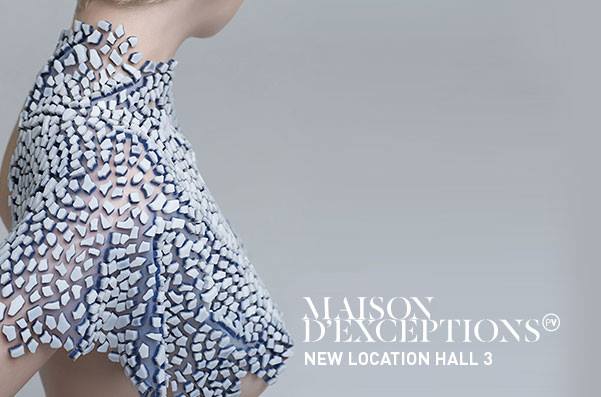 Enfin, en parallèle de Maison d'Exceptions, ces quelques rendez-vous à ne pas manquer :
Le Wearable Lab, un espace d'invention et de réflexion prospective : cette première édition entend questionner et accompagner l'avenir de ce nouveau territoire qu'est la Fashion Tech :
-Une exposition de 10 œuvres expérimentales et inspirationnelles – vêtements et accessoires – témoins de l'ébullition de la scène Fashiontech depuis les dix dernières années. Sarah Angold (Angleterre), Ezra+Tuba (Turquie), Ying Gao (Canada), Nervous System (USA), Pierre Renaux (France), Clara Daguin (France) , Anouk Wipprecht (Pays-Bas).
-Une conférence sur le thème « Fashiontech, scène d'avenir ou utopie ? Avec Christine Browaeys (T3nel), Pascal Denizart (Ceti), Hilary McGuinness (Intel), Nelly Rodi (R3ilab), Anouk Wipprecht (Designer). Rencontre animée par Noémie Balmat (Clausette.cc).
Mercredi 8 février à 15h30
-Une conférence sur le thème du « réveil du sourcing de proximité », par l' Institut Français de la Mode (IFM)
Mardi 7 et Jeudi 9 fév. à 14h30
-Luxury Materials Worshops :
Mercredi 8 fév. à 11h30. Les techniques d'ennoblissement au service de la créativité.
Mercredi 8 fév. à 15h30. De l'artisanat à l'industrialisation des savoir-faire.
Jeudi 9 fév. à 11h30. Métaux et types de traitements.
Jeudi 9 fév à 14h. Focus sur le zamac et les processus de galvanisation
Première Vision Leather – Hall 3, Espace Workshops & Conferences area/ Accès libre.
http://www.premierevision.com/

@thedailycouture 

Depuis 2011, à la demande, the Daily Couture organise des immersions dans les Ateliers Haute Couture à Paris travaillant pour les plus grandes maisons de mode. Envoyez-nous votre demande : info@thedailycouture.com 



En savoir plus, c'est par ici : Visites Ateliers Haute Couture à Paris | Immersions Mode

 



Ils nous font confiance : ref clients