film co-réalisé par Timothée Callec et Charlotte Le Brun
The Daily Couture s'est mis en tête de vous aider à vivre cette immersion dans les coulisses de la confection Haute Couture. Pour toute demande de renseignements, nous sommes joignables ici : info@thedailycouture.com
Nos « Expériences Couture » personnalisées sont uniquement conçues à la demande.  Et vous pouvez découvrir quelques commentaires de nos clients particuliers ici : http://thedailycouture.com/ils-nous-ont-fait-confiance/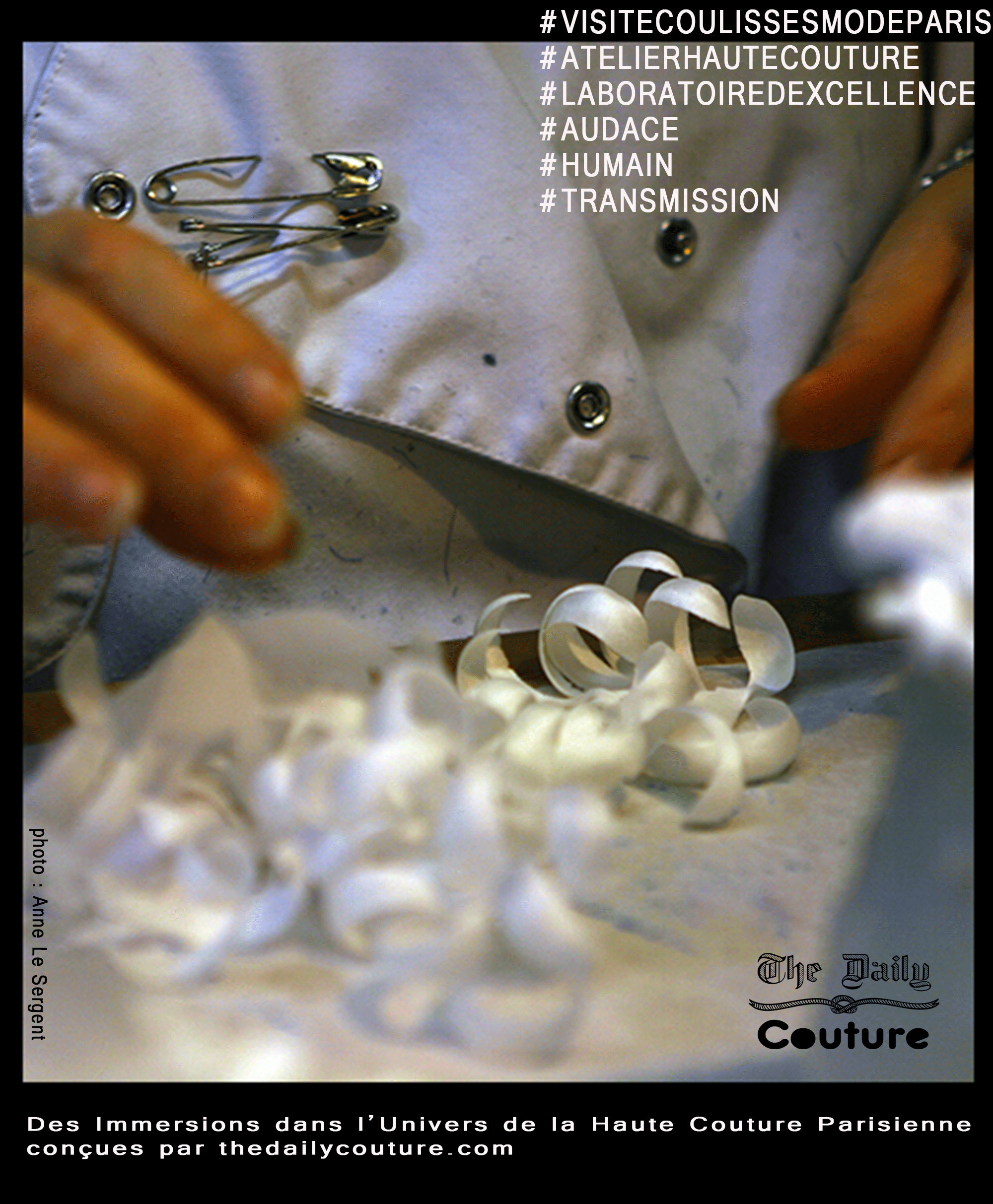 Depuis 2011, The Daily Couture propose des visites privées et personnalisées dans les ateliers indépendants mettant leur savoir-faire rare au service des grandes maisons de Haute Couture parisiennes.  En somme, une invitation à s'immerger dans les coulisses des coulisses de la confection Haute Couture, au-delà des frontières du luxe incarné par les ateliers intégrés aux maisons de mode. 
Ce que The Daily Couture vous fera découvrir ?  Des savoir-faire traditionnels rares, en plein renouveau, et indispensables aux grandes maisons de mode. Mais aussi des histoires entrepreneuriales et humaines… Sans oublier, bien entendu, la découverte du processus de création collaboratif entre ateliers et studios créatifs. Soit l'expérience d'un Paris confidentiel, témoignage d'un art de vivre à la française rayonnant dans le monde.
Initiée par Stéphanie Bui, journaliste mode, ces immersions confidentielles sont destinées aux professionnels issus de tout horizon, aux écoles dispensant des formations sur le management et le marketing des industries de la création (mode-luxe-design), sans oublier les particuliers passionnés de mode ou souhaitant offrir une visite cadeau dans les coulisses de la Haute Couture à un(e) proche. Ces expériences sont conçues pour sensibiliser à cet écosystème et ses savoir-faire encore méconnus. Et en pleine renaissance aujourd'hui.
L'Atelier Haute Couture parisien aujourd'hui : il s'inscrit dans la pérennité de la création artisanale d'excellence spécifique à l'univers du luxe européen, notamment français. Bien plus qu'un exécutant hors pair, l'Atelier Haute Couture est un espace dédié à l'expérimentation, au foisonnement créatif, à l'exploration perpétuellement renouvelée des codes stylistiques des maisons de mode, au prototypage soumis à l'impératif d'innovation et de nouveauté. L'Atelier Haute Couture est un lieu de maîtrise de l'art du détail né d'un savant alliage entre tradition… et innovation.                       
De façon plus globale, en cette période de profondes mutations des industries de la mode et du luxe – vers plus de durabilité notamment – , d'envie de pratique de métiers manuels si épanouissants, mais souffrant d'un déficit d'image si injuste, d'une aspiration  à mettre « l'humain »  au coeur de la création de la mode (Forum de la Mode 2018), il est temps que nombre de métiers d'art soient envisagés sous un jour autre :  également des métiers d'avenir. La création artisanale n'incarne-t-elle pas  ce supplément d'âme, une intimité et une personnalisation de l'expérience esthétique dans l'air du temps – qui fait sens ? 
S'immerger dans l'univers d'un atelier d'excellence est une invitation à apprécier et ressentir la valeur d'une certaine conception de la création, tordant le cou à cette pensée d' Oscar Wilde : « Aujourd'hui les gens connaissent le prix de tout et la valeur de rien ». 
Plus qu'une expérience dite insolite, les immersions proposées par The Daily Couture mettent en lumière un écosysteme créatif singulier, un savoir-faire autant qu'un savoir-être inhérent à la pratique artisanale d'excellence.