film co-directed by  Timothée Callec & Charlotte Le Brun
These experiments are designed to raise awareness about this ecosystem in the midst of a revival today. For any information request, we can be reached here: info@thedailycouture.com. Our customized "Couture Experiences" are only designed and organized on demand.  
Here, some of our private clients' experience with us can be read: http://thedailycouture.com/en/they-trust-us/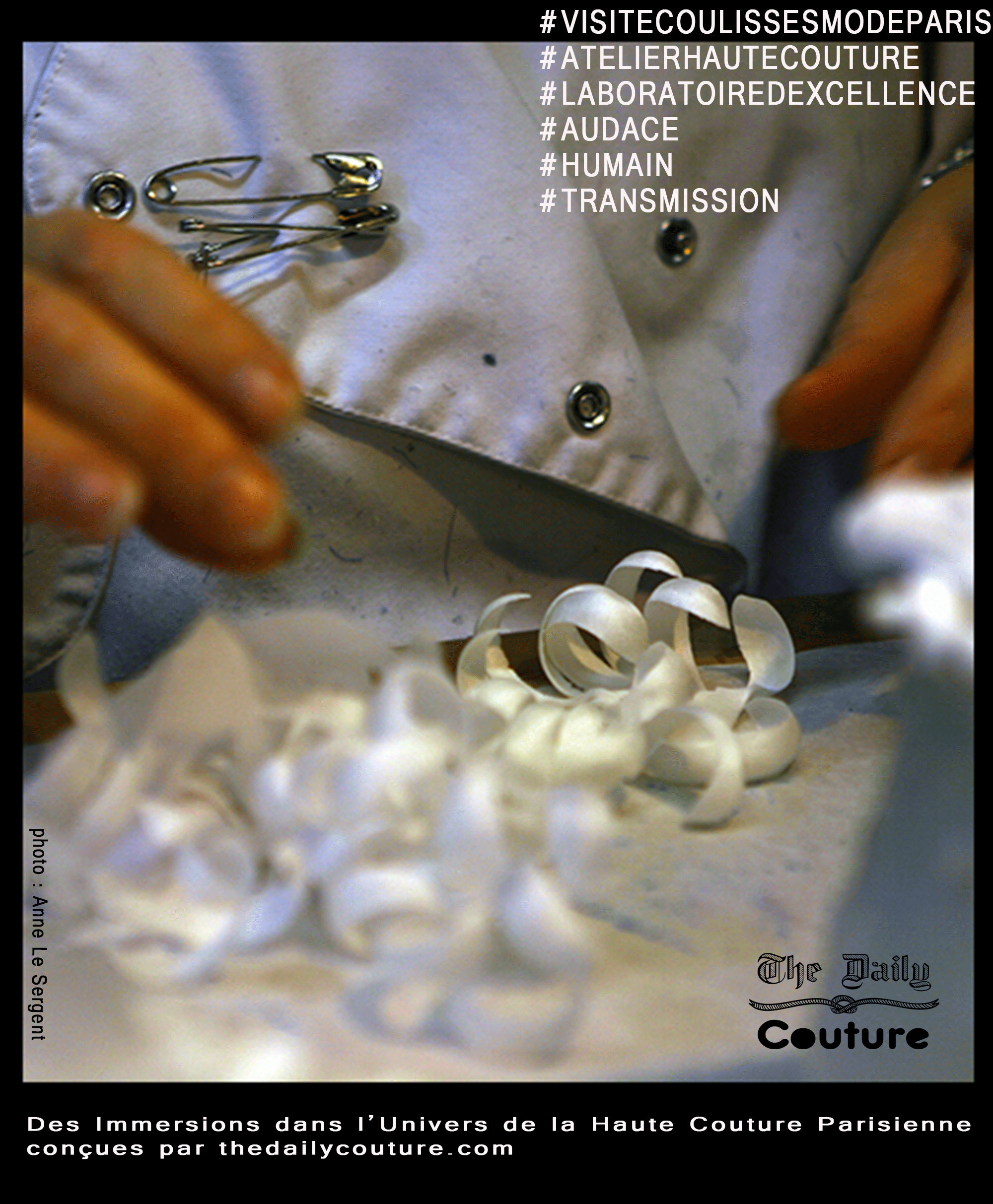 ---
What about enjoying a hands-on experience learning some of the tools of the trade of artisanal know-how of Haute Couture, and never look at the art of Haute Couture in Paris the same way again?
The Paris of haute couture awaits… At your fingertips… The Daily Couture has been designing private and bespoke tours in the world of Parisian Haute Couture workshops working for the greatest Haute Couture fashion houses since 2011. Initiated by Stéphanie Bui, fashion journalist, The Daily Couture provides you with the possibility to immerse yourself behind-the-scenes of Haute Couture fashion in Paris. Our bespoke tours enable your exclusive and genuine encounters with artisans of couture in their own atelier, a very special site of high creativity in fashion highlighting a unique creative ecosystem made of know-how and soft skills inherent to the practice of master craftsmanship.
Allow yourself to be surprised by authenticity! Leave behind the Paris neighborhoods prized by tourists. Meet the artisans of luxury whose skills are often barely known to the larger public but praised all around the world within the global luxury industry… Discover today's Paris as one of the world's fashion capitals.
Our goal is to have you never look at designer clothes in a high-end boutiques and haute couture coverage the same way again: it's time to see French workshops of Haute Couture as they really are: a mark of exceptional sophistication transmitted from generation to generation or as a passionate path chosen by entrepreneurial newcomers. Travel back in time and enjoy the relevance of the rare artisanal skills in today's globalized fashion and luxury world in an intimate venue.
What you will discover:
rare traditional and artisanal skills that are being revived and that have always been essential to the great haute couture fashion houses.

inspiring entrepreneurial and creative stories full of humaneness…

the collaborative creation process between workshops and creative studios.
The Parisian Haute Couture Workshop today:
it is at the heart of luxury in France. Much more than an outstanding performer, the workshop of Haute Couture is a space dedicated to experimentation, to the perpetually renewed exploration of the stylistic codes of fashion houses, to prototyping in order to provide fashion houses with innovation and novelty they are bound to. The workshop of Haute Couture is a place of mastery of the art of detail delightfully combining tradition and innovation.                      
More generally, in these times of profound changes in the fashion and luxury industries – towards greater sustainability in particular – of increasing interest in practicing manual trades that are so fulfilling yet suffering from such an unfair image deficit, of an aspiration to put "humaneness" at the heart of fashion creation (Fashion Forum 2018 in Paris), it is time for many crafts to be considered in a different light: also as trades of the future. Doesn't master craftsmanship embody this extra soulful creative touch in the spirit of the times? 
Our confidential immersions are intended for:
professionals from all walks of life

schools providing training in the management and marketing of the creative industries (luxury fashion-design), as well as any other schools indeed.

private individuals who are ready to experience fashion backstage or wish to offer such a gift visit to fashion amateurs.