Embracing aging & couture: "the reality of what Haute Couture means today" was Alexis Mabille's statement the Daily Couture shares with this third part on the Paris Couture Week fall winter 2015-2016.  The haute couture overwhelming ethereal pink carpet dresses, each of them tailor-made for the couturier's 15 muses, were gathered in the glamorous Opera Garnier in Paris. Whatever Couture does mean today for Alexis Mabille, the one thing that proved to be paramount was staging glamour with his "Portraits of Women".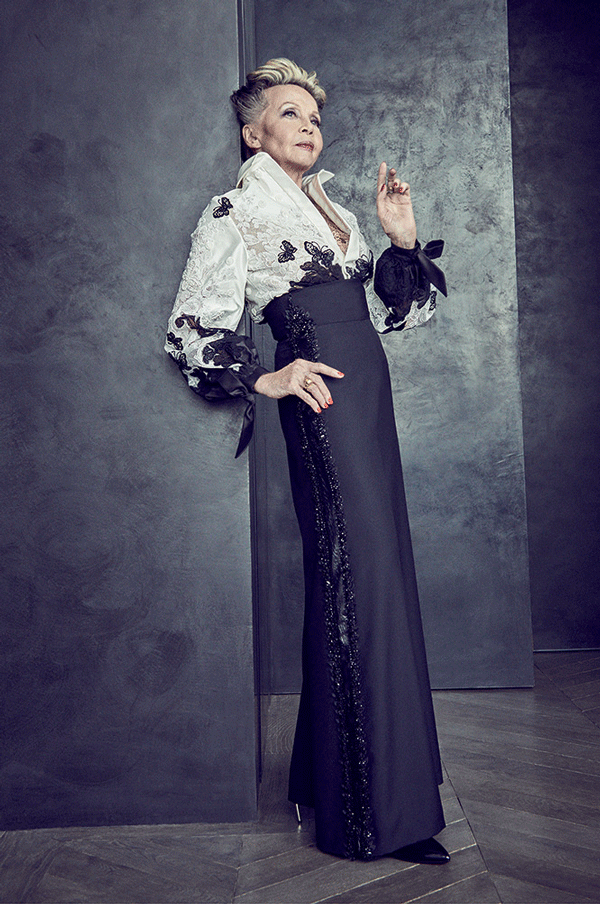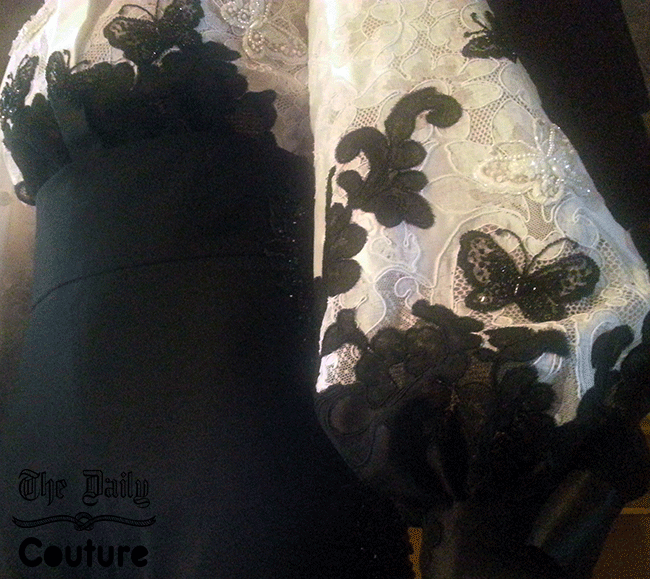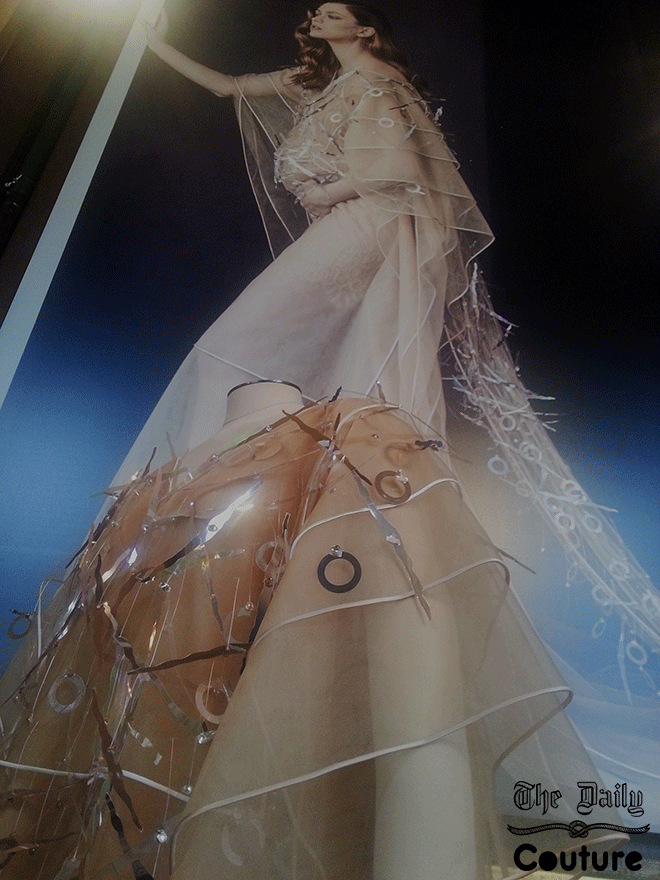 Let us "see what happens beyond the runway and show the reality of what Haute Couture means today", the couturier Alexis Mabille announced. Haute Couture needs to be incarnated, he asserted: "The dress and the woman are one. My Haute Couture is the marriage of my style and my client's desire, a fusion of my codes and each woman's charisma". His 15 muses were given the privilege to have their own Haute Couture design with his show: Dita Von Teese, Leslie Caron, Bérénice Béjo, Marie-Agnès Gillot, Yumi Lambert, Inga Savits, Diane Gartner, Michelle Alves, Manuela Frey, Julia Frauche, Audrey Marneyn Morgane Dubled, Mounia Orosemane, Marie Beltrami and Olivia Merilahto. The highly stylish group of icons encompassing all ages and creative circles in the sumptuous venue could definitely have stunned on a Vanity Fair group cover spiked with the French Couture twist. The one group cover was given a glamorous limelight in the heritage room that made its effect with portrait photographer Matthew Brookes capturing "their timeless beauty" with a series of photos displayed next to each Haute Couture piece.
The issue of Haute Couture as a question of charisma, not age, has been growingly addressed by the fashion scene since pioneers such as the Advanced Style blog has been successfully paying homage to older women with style by its posts and its recent eponymous documentary directed by founder Ari Seth Cohen. Alexis Mabille has pinpointed at such charismatic women as Leslie Caron as inspiration for his Couture. "The human face was always my great landscape" is the lovely quote by Colette that has inspired the couturier, hence the exhibition better suited to convey each muse's couture world than a runway show.
More personal shows are really a trend that I have been enjoying for the last seasons whatever the motives of the couturiers are: the art of detail by Haute Couture can be better appreciated. Alexis Mabille chose to go the other way around though on that very last point. Even though the couture pieces were able to be closely observed, that rather was a side effect I happened to particularly enjoy. That was not the couturier's wish to celebrate master craftsmanship as such : "Haute Couture can't be "summed up in a handful of numbers, rules and techniques carved in stone:  the number of dressmakers and hours needed to make a dress, the artisanal methods and fabrics used…" For the couturier, "Haute Couture represents much more than that. The true face of Couture is an intimate, sensual and passionate relationship, the use of exceptional know-how to honor an individual, the woman who wears it".
Nonetheless, closely looking at the fabrics and artisanal know-how was great for any crafts lovers: the French actress Bérénice Béjo's dress was made of a long lace shealth with hand-painted inserts in gradations of white to pink, red, scarlet and black with rocaille crystals, mother-of-pearls and flower embroidery.  Leslie Caron's stylish white satin shirt with Lyon lace inserts, embroidered with polka dots and butterflies in white and black rocaille crystal, cuffs with black satin bows and wide was stunning. As for Morgane Dubled, her long, square millefeuille dress stood out for its originality in a gradated nude illusion tulle with satin bias and iridescent pendants embroidery, worn over a body-skimming Lyon lace slip. Designing with the plastic pendants embroidery did well on that one dress, didn't it? One of the many details that could easily go unnoticed in a runway show and that we were able to enjoy this time, besides the Couturier's do-good celebration of Couture for women of all ages, provided that one can afford it!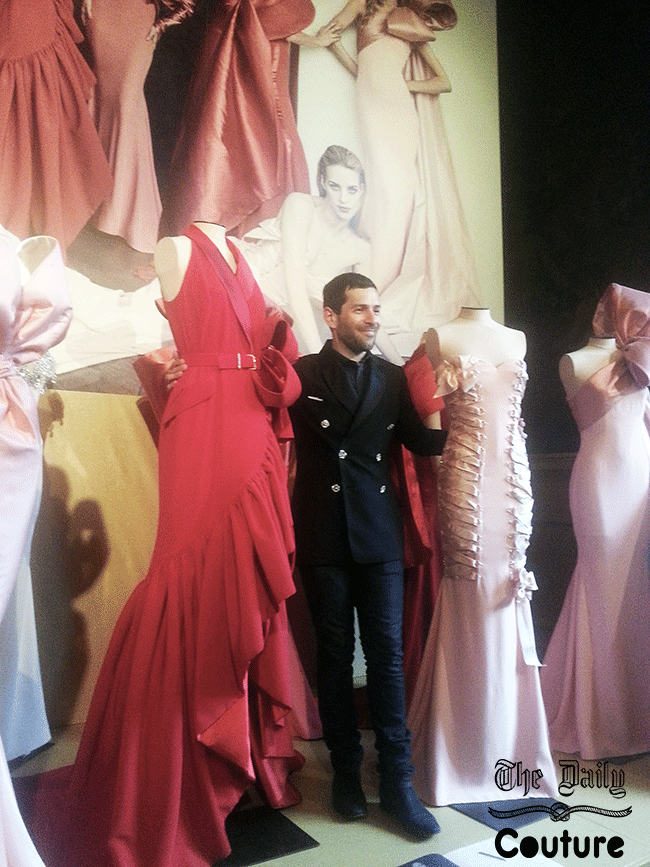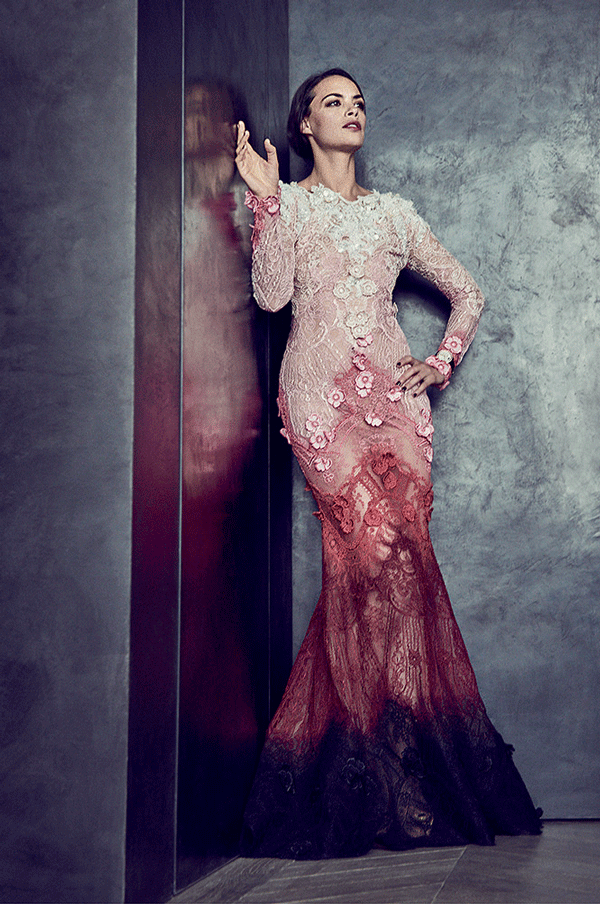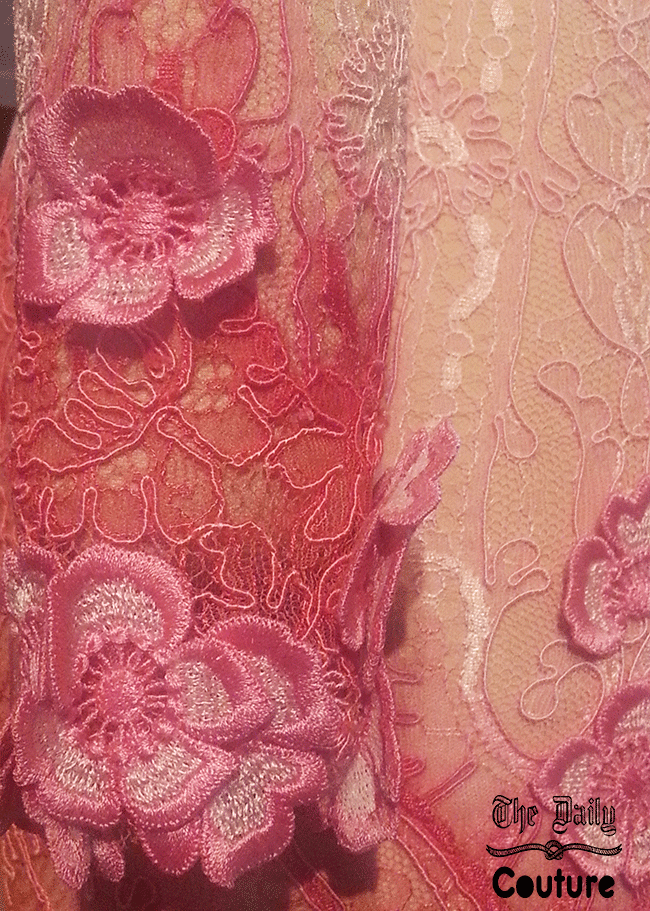 ______________________________________________________________________________________

For information about the Daily Couture's Paris fashion private tours organized all year round (except August), visit our page dedicated to our Paris custom Haute Couture and Sur Mesure tours for professionals and private individuals interested in discovering this confidential world of French fashion, don't hesitate reading our Guest Book. The Daily Couture  by Stéphanie Bui – info@thedailycouture.com