Whether the animal has had a good life is at the heart of the matter in the making of first grade skins to be used in fashion and design, once we have eaten animal meat. With Vianney, a skinner and one of our craftsmen partners, specialized in supplying cattle and lambskin leather to the great names of couture and design, animal welfare issues are being raised.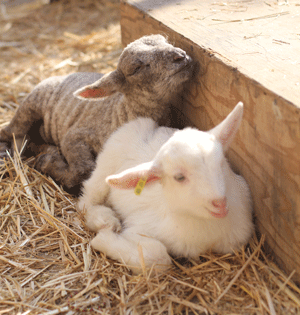 "Good meat, nice skin", the French proverb says. It was reminded to me by Francis Chauveau, Directeur adjoint des affaires industrielles chez Hermès, during an interview for an article that was not finally published. And the luxury house knows what leather is about since it is one of the most reknown names perpetuating the traditional artisanal know-how in leather making. "We often observed how true the proverb is. The more we are demanding regarding the quality of our skins, the more we encourage good conditions of breeding and slaughtering processes, the better the meat will be. And a great skin only comes from a good animal breeding and tanning."
The late charismatic President of Hermès, Jean-Louis Dumas once visited the family's showroom incognito, some 20 years ago, to see how leather skins were being dealt with by the trader. "A great honor", Vianney's father says with emotion and pride as he recalls the famous customer introducing himself to him and complimented him about his work.
Return to basics. Once we've eaten animal meat, we wear animal skin. Nothing new here, you would tell me, and yet information about leather production processes are left hanging in the air by the vast range of media coverage in fashion while the focus will exclusively be on the new cuts and colors in the air. In the end, nobody knows about tanning and leather, we are left with trendy clothes and accessories as objects like any other one.
In light of my ignorance, I got delighted to hear about this one initiative, blessfully hurting like a healthy booster shot and dotting the i's and cross the t's about the reality of creativity : a restaurant in New York City, in Williamsbourg, Marlow & Sons, enables customers to acquire fashion accessories as a reminder of the great gustative experience you just had as an animal eater. You can meet the meat you've eaten, taste it and wear it, thus "honoring it", the wife of the owner, Kate Huling explained to the AFP, quoted by Fashion Mag.
The fashion accessories are made from the cowskin left from the cow meat or other types of meat eaten by the customers in the restaurant. Will you experience this kind of pleasure? What about somehow experiencing tasting a bag, a belt or a hat ?…
The terrific and bold concept strongly entrenched in the local know-how, making tanning manufacturers, stylists and cooks somehow work together would definetely come from a New Yorker's pragmatic mindset! I love it! Where will we go next?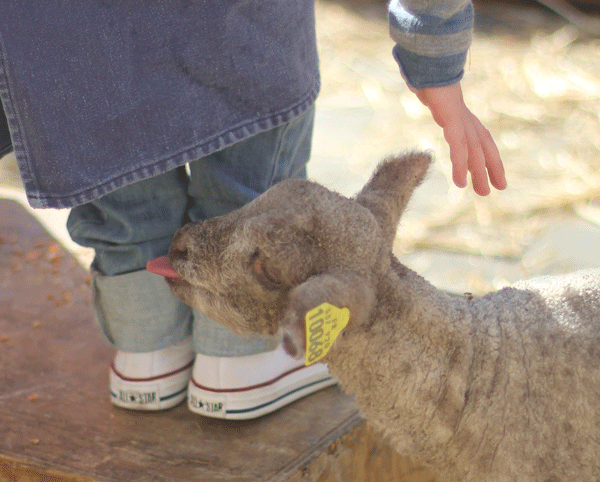 Next, we will be quick to get into the swing of things as Vianney is sharing with us his experience as a skinner. Having his family working as skinners for generations, he works flat out to supply the best quality animal skins to the greatest names of fashion and interior designs. "Quality, qua-li-ty, is what matters ", he insists, it's his motto. Animal skins from tanning manufacturers will be turned down when not meeting his quality standard.
The rejected animal skins will then be used as second or third choice by other skinners or brands, or first choice by anyone  else not as demanding as Vianney!
Finding the right sample for the customer is made easy with his wide range of animal skins available for immediate delivery. which is unusual in the business. Skinners will mostly have samples and no stock whatsoever.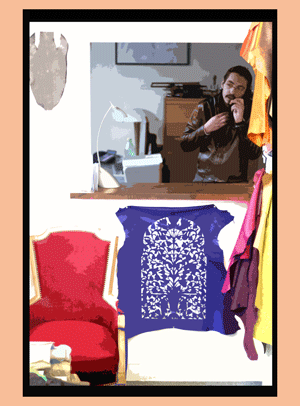 What is the specificity of washed lambskin leather – what you are mainly known for supplying?
This is the Rolls Royce of leather ! Its very thin and natural grain enhances the silky feel of the material when you touch it. It's a bit as if you were touching a baby's skin. Indeed like for babies, the washed lambskin leather is sprinkled with talc before undergoing its very last finishing to optimize its shinning effect. Washed lambskin leather is best fitted for ready-to-wear and the glove-making industry.
Which quality makes it stand out ?
Whatever kind of leather we are talking about, its quality depends on the animal it comes from : the hide. If you deal with bad hides, no matter how hard you will try to remedy to it with diverse treatments, you won't have quality leather skins in the end.
As for human skin, animal skin keeps marks of imperfections upon its grain.
For example, holes in animal hides are regularly made when tanners burst through the hide while scraping it.
Animals are used to get injuried by straw too, it does leave lasting marks upon the animal's grain. This is pretty far from the romantic image we have of the prairie party with straw bales!
Of more importance are animals suffering from junk food like humans do because of intensive livestock farming being designed to yield the highest profit from the least amount of labor and costs at the expense of animal welfare. As for humans having a dull complexion as a blinking sign that they are not eating right, skin always reflects what you have in your body for animals as well. Downgrading and unsuitability of hides and skins have led to loss of meat quality and loss of animal skin quality alike.
With intensive farming too, pure lamb breds have disappeared with interbreeding among local lamb breds for instance.
In which sense are interbreeding among pure breds causing quality loss of animal skins ?
It's not as if interbreeding among the best reknown pure breds occured. Today, for instance, lambs from the French region of Aveyron, of Lacaune or the Spanish Entrefino are not purebreds any longer by being gathered together in the same livestock. One can't look after each animal to make sure they won't interbred with another bred. Still each of those breds is reknown for its own particular aninal skin dedicated to particular design.
You mean there is general quality loss of animal hides and skins ?
Yes, my father did feel some some twenty years ago that the fourth choice of animal skin of the time would become the first one today, which proved true.
Animal skins are not what they used to be.
For instance, to make a trench out of 12 animal skins, we need to select from 40 to 50 animal skins in order to ensure fairly homogeneous aspect. We have to remind ourselves that the skin is alive.

General quality loss of animal skins need to be explained to customers, which is all the more challenging as nobody neither knows  the extent to which tanning is about sweating blood and tears to complete the work, nor how it is actually done.
When I joined the family business, I was sent to one of the tanning manufactures we are working with, for a week. At 7 am, the first day upon arrival, I got stuck with animals' carcasses, knee deep in dirty water, face to face with animal excrement, blood and hair, with this smell none of your photos will ever be able to capture …
I became sick right away!… Again, nobody knows how miraculous it is to get the animal skin as it is in our showroom. Take time and see for yourself !
Ok, this is on my check list, I told myself. Meanwhile Vianney is giving us this video, below, made by Diptik, a good one on the tanning industry, he says, even though not all the steps are shown, and that smells will have to be fancied… Will you be angry with me to have you imagine such a smelly scenario ?

Tannerie Mégisserie Hervy par ohmycocoon
What about sustainability issue in the tanning industry?
We are to follow REACH – European laws banning toxic chemical sustances. About 5000 colorants will be forbidden within the coming years! Letters are regularly sent to us about new colorants being forbidden. With raising sustainability issues, some tanners are coming back to former vegetable tanning techniques like bark tanning.
Still, it is not 100% water and light resistant. For the moment, I am sceptical about the quality of those bark tanned hides and skins and whether the techniques used really are environmentally-friendly. Like for any other idustry, how can we be sure that some toxic substances have not somehow  been added during bark tanning processes as well?
VEGETABLE TANNING
To understand a bit more what bark tanning was about, I called French CTC (Professionnel Comity of Leather Development – Shoes –  Leather goods ). I was given information by Eric Valot (leather department manager). Here are the very basics I share with you, having this one question in mind : to which extext is bark tanning green?
The core of the issue, I was told, is not vegetable tanning vs mineral tanning, but mostly whether tanners respect environmental laws, and the level of application of norms among countries on the international scale. Let's note that all tanning manufacturies are compelled to submit to environmental laws regarding de-pollution or waste water treatment waterwhatever tanning technique used.
In short : vegetable tanning, what is it?
It is based on tanning extracts – stemming from oak bark, chesnut oak or black oak giving mimosa extracts — which have been used until the beginning of the 20th century. Later, chrome tanning salt coming from mines have been used. Mineral tanning extracts prove to be particularly relevant for their fast, performing, soft leather rendering and cost-effective ratios.
Today, mineral tanning accounts for some 80% of the  tanning process , and vegetable and synthetic tanning for 20%. Traditional vegetable tanning is still being used today. Even though the process is faster nowadays, a couple of days to more than a year can be needed to complete it.

Green incentive
A matter of eco-friendly perception of traditional vegetable tanning rather than a really 100% green process, according to CTC. The fashion and design industry and customers have become attracted by the the Go Green mouvement. For some, like the automobile industry, professionals would rather select vegetable tanning so as to anticipate legislative constraints regarding automotive parts to be recycled. As for the fahion and design industries, leather products with old-world craftsmanship are currently meeting the expectations of the market and customers in terms of design too. At last, let's note that for the shoe industry of luxury, vegetable tanning is most suited to design shoe soles thanks to the rough leather produced. The shoe sole making explains the need for vegetable tanning in the long run.
How green ?
Let's quicky overview the main steps in bark tanning: the process revolves around the management of a recyclable natural ressource : wood bark. We can manage trees plantations in a sustainable way to perpetuate those vegetable tanning from oak trees, chestnut trees and black trees, as opposed to chrome tanning salt.
Then, the vegetable extracts are ground and heat up to obtain the bark tanning extracts. Yet, before getting the final extracts, they will have to be soaked in hot water. A solution will make the bark tanning extracts appear. Before that, the liquid formulations will have to be evaporated in order to get powders instead of liquids. The resulting bark tanning extracts will then be more easily sent to tanning manufacturers. "Bark tanning is not exactly lily white as expected" in the sense it is water and energy consuming, with some chemical substances to be added to obtain the final tanning powder.
The currently message we hear in the media stating that bark tanning is definitely more eco-friendly than mineral tanning is denounced by scientifics and technicians.
In fact, when you measure environmental impacts from both processes, the situation is not so clear-cut. Choosing vegetable tanning extracts shoud not be the prime and only criteria to affirm you actually use a better eco-friendly tanning technique.
So let's be careful with labels and let's do think twice about the word « vegetable » or « natural » !
Later,
Stéphanie
stephanie@thedailycouture.com
Vianney is one of our craftsmen partners you can meet during our Paris guided tours in haute couture, I Love Paris Savoir Faire. For any information needed, you can send a mail to : info@thedailycouture.com