« Some colorants are disappearing », Arnaud told me, one of the few haute couture dyers left in Paris and a craftsman partner of our I love Paris savoir faire city tour. Good piece of news: some colorants are being rediscovered, and they are vegetable dyes, hence this post on the artist and expert in natural dyes and fibers, Betty de Paris I met during the Paris Ethical Fashion Show.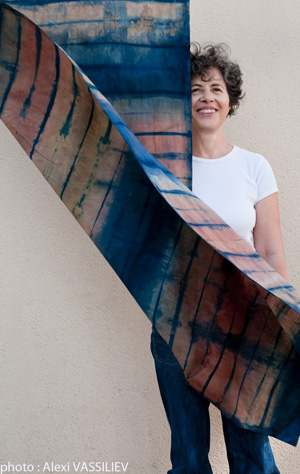 Haute couture craftsmen do need alternatives to disappearing toxic chemicals!
The disappearance of colorants and its impact on daily practices was also mentioned by our embroidery partner, Victoria. For instance, the exact colors for beads sometimes cannot be found for her haute couture embroidery any longer. All the craftsmen are faced with bans from The European Community Regulation on chemicals (REACH), blacklisting toxic chemicals used by manufacturers and importers for nearly 4 years – only.
The craftsmen's daily practice in creating colors is somehow being poisoned with environmental norms, in spite of being necessary for heath care.
These makers of the unique, often working within extra small units, fail to find alternative colorants. Let's note also that their one of the kind pieces make it irrelevant for them to ban some colorants only used in very tiny quantity. They do not work for mass production markets. Wouldn't have it been more relevant to adjust the law accordingly, or at least giving information about alternatives?
Having this issue in mind, I decided to learn more about the ecological commitment of the artist Betty de Paris. Some craftsmen partners as the dyers, the textile designer and the hats and flowers makers might be inspired by her story. As she used to be working as a painter on silk, one day, she could not physically stand the pollution of the chemical dyes any longer. Her ecological commitment was a matter of health. From being regarded as a kind of weirdo concerned with organic fibers and vegetable dyes in the 80's, the militant artist who has been using eco-friendly materials for 30 years is now praised for her approach by the textile design industry.
Making sense out of fibers and dyes
As the artist was having a 10 days long exhibition entitled, « A l'ouest blanchit la lune », I decided to meet her at this great courtyard Paris loft dedicated to a once a year high end textile design exhibition.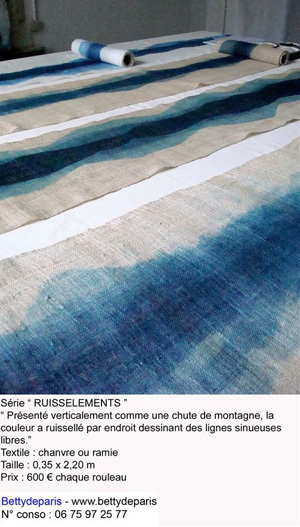 Betty's paintings make us travel through the history of textile industry. The fibers drive us to the Far East and India thanks to her use of natural fibers such as Indian cotton, Chinese hemp or ramie. As for the vegetable dyes, she mainly uses indigo. Her Plier series pays homage to both vegetable and medicinal plants: one is called rocket, a 6,000 year-old plan still being cultivated to create yellow, the second one  is the garance plant giving a highly rich range of reddish color, already used in Persia about 2000 BC. Later, they were used in European royal manufactories and in textile companies until they were replaced by chemical colorants during the European industrial revolution in the 19th century. Thanks to chemistry, the artist-expert insists, new colors were created too. That was great. Sometimes, that was fatal. It even ended up with inventions such as an arsenic green in London in the late 19th century. A lot of children sleeping in their great-looking arsenic green rooms never woke up again. Today, it is still possible to find vegetables dyes of the past!
Hardly had I set about enjoying the serenity from her works when she was quick to use her pedagogical fiber to challenge perceptions on know-how. I was thus reminded of how the French Captain Antoine de Beaulieu was sent to India, in 1734, by the Compagnie des Indes Orientales, to spy the Indian savoir-faire of craftsmen in vegetable dyes from Pondicherry. The captain was expected to write a report describing every step in the dyeing process of the Indian cotton design. The 'Indienne' was the must have in textile design for the French bourgeoisie and aristocracy at that time. Some samples he took back with him from India can even be observed at the Museum national d' Histoire naturelle in Paris.
Nowadays, we know the success story of the cotton fiber in Europe whereas it is not produced in the continent.  This example points out that if Europeans now suffer from disappearing high end savoir-faire, they were once the ones who managed to import or rather « stole » to quote Betty's word ‒, savoir-faire from other countries such as India in this case.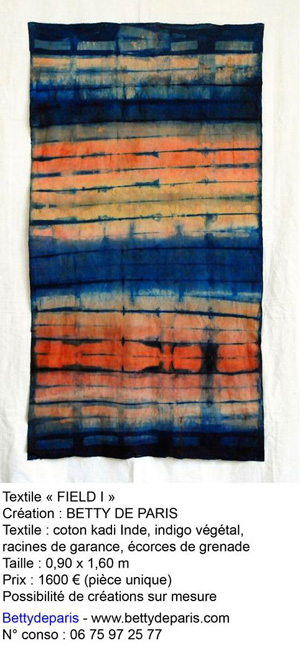 Japanese traditional dyeing practice
Betty's 3 years experience in painting kimonos, in Kyoto, was a turning point in her approach to coloring in the eighties. She got astonished at the colors she would observe – colors she had never seen before. She even noticed some fashion brands using vegetable dyes at the time, she recalls, still quite amazed.  She explored the country to learn all about the native textile design practices, applying complex pleating techniques, ancient procedures, and substances coming from all over the world. Learning the language was essential to understand the culture and the technical textile design inscribed in it.
Later, this native textile industry would lose some of its small work units with the opening of Japan into the Occident and the beginning of the global mass market in fashion.
Betty's new Indigo exhibition will be presented in Paris Bensimon Home autour du monde boutique, starting on January 21st.
Towards a sustainable dyeing process?
Some global fashion brands as Benetton or Gap do happen to design some indigo dyed jeans. Still, the growth of the vegetable textile industry is faced with consumers 'habits or misleading thoughts on vegetable dyed clothing. You can listen to the conference*. I choose to pinpoint 2 of the obstacles to the growth of this market:
Consumers are used to thinking that vegetable dyed clothes are particularly fragile. Of course, if you wash them with strong chemical products, it does not make sense. All you need to do is using delicate clothing wash products, professionals rectified.
Consumers are used to looking at 100% even colors – uniformity. Let's not worry, I many vegetable dyed clothes just look fine!
How far are we ready to challenge our visual habits? As long as toxicity is not visible, how not motivating it is for most of us to fight against it!
written by Stéphanie,
stephanie@thedailycouture.com
Notes :
Ethical Fashion Show
Podcast – conference on naural dyes , Paris Ethical Fashion Show
Betty de Paris