What about sharing with you posts about emerging designers and brands that somehow address the issues of master craftsmanship the Daily Couture is so interested in? Designers are the visionaries, the dream makers master craftsmen do need to collaborate with: to have the practice of their own master craftsmanship twisted, challenged and revisited by designers in order for their highly specific skilled crafts to remain amazingly in tune with today's taste and expectations in design. Even though it is not to say that master craftsmen can't be designers themselves. Many prove to be good at it and have successfully created their own brands.
Paris Fashion Week Fall Winter 2014-2015 by French fashion designer Christine Phung is my pick for this post on the Daily Couture as I attended to her second runway taking place at the Galeries Lafayette Maison.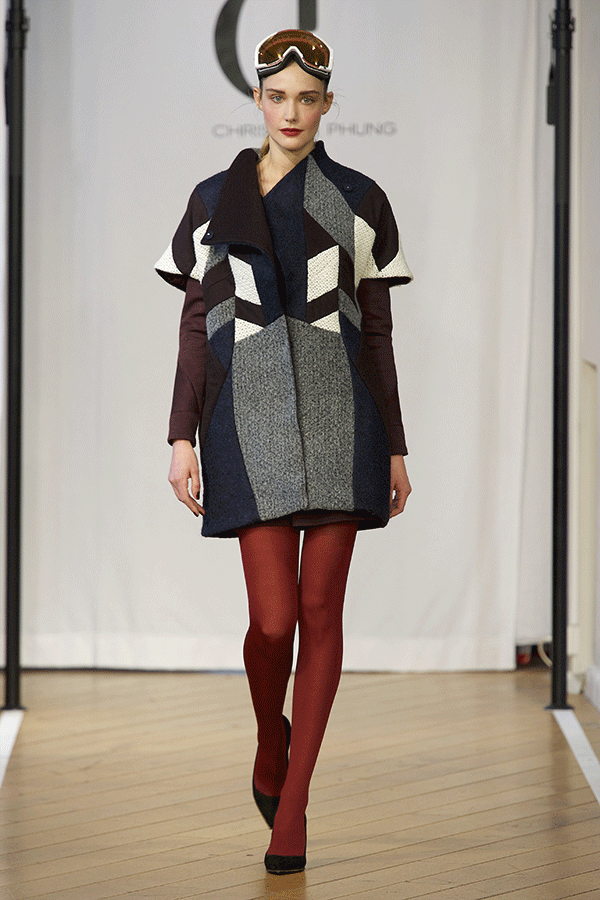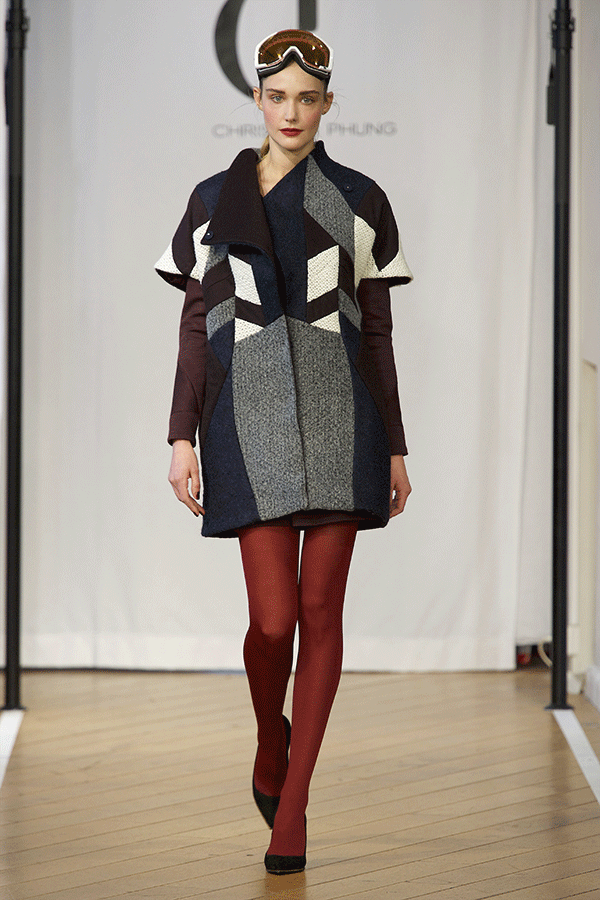 Her mix of artisanal and technology practices is what has been catching my eye for the Daily couture since I first discovered her highly stylish hand-crafted fashion awarded with the Grand Prize for Creation of the city of Paris in 2011, in the category "Fashion confirmed", fresh off the heels of creating her own brand. The designer previously worked for fashion brands as Christophe Lemaire, Chloé, Vanessa Bruno, Lacoste or Baby Dior after graduating from Ecole Duperré in Fashion Design and from the Institut Français de la Mode.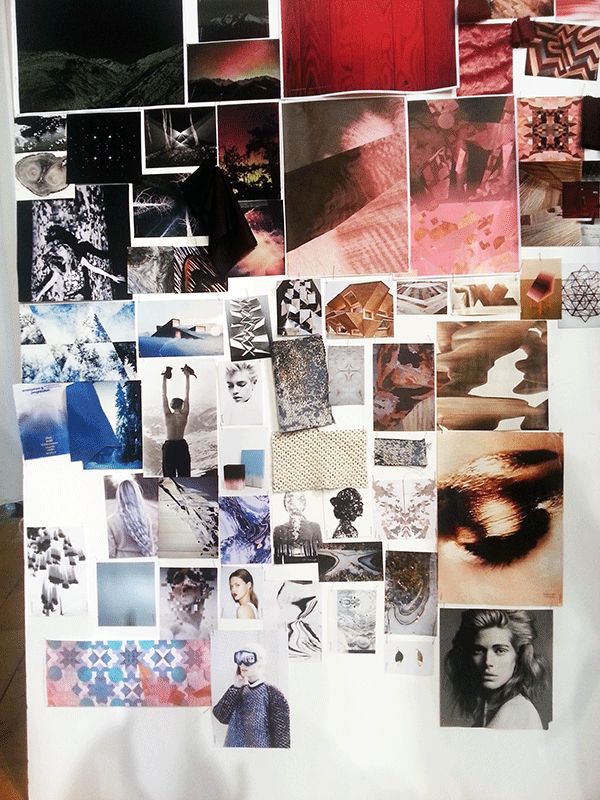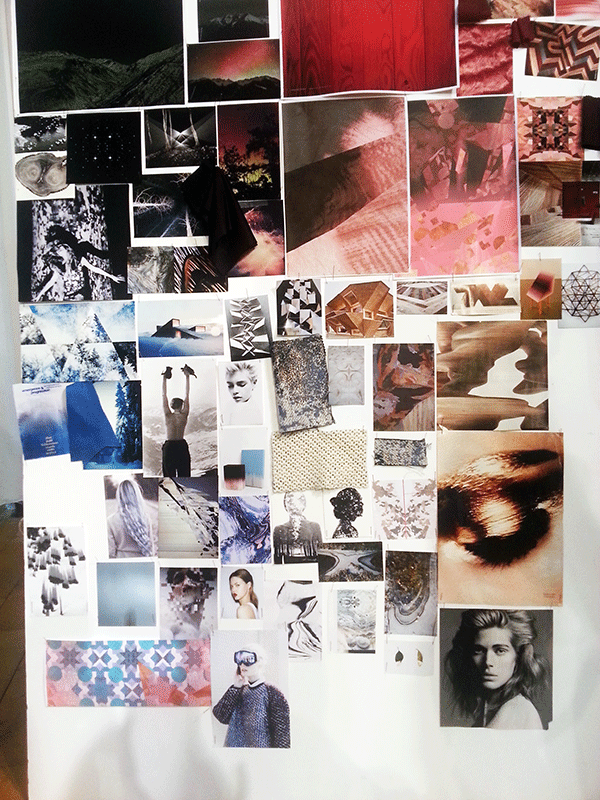 Christine Phung's ongoing awesome story exuding the art of marvelous pleated fabrics, perpetuated by one of the master craftsmen the Daily Couture has been partnering with for our private Haute Couture tours ─ before the atelier got bought by the Chanel group ─ is what I naturally noticed at first.  Still the designer enjoys using other artisanal techniques such as embroidery, patchwork as well as technology with the "lace fed with silicone" stunning technique invented by master of silicone design, Tsuri Gueta, who took out a patent for the method used by the haute couture fashion houses as well.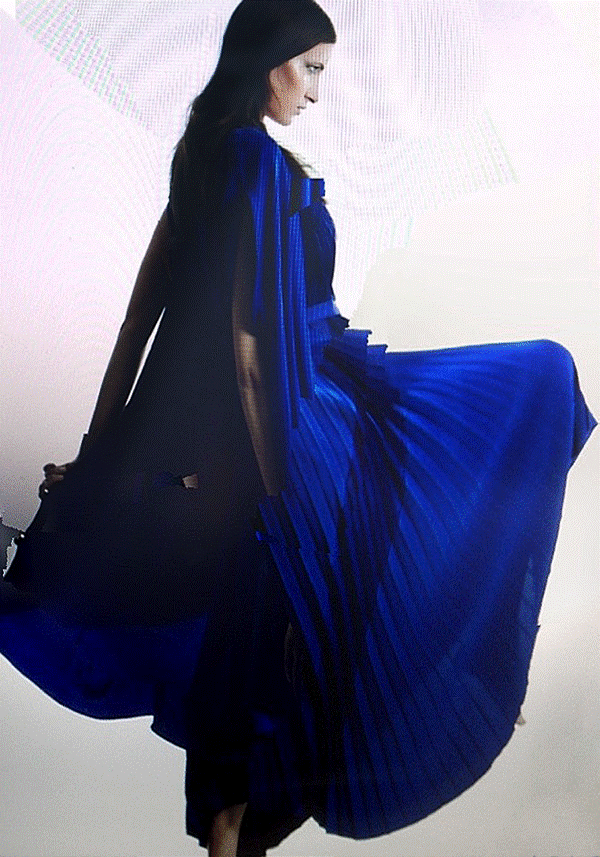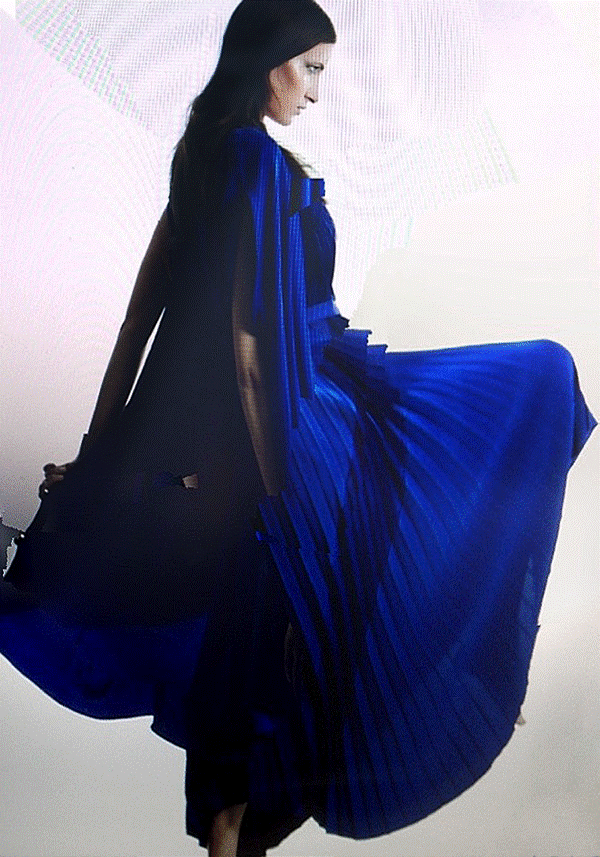 All in all, her eagerness to get to a fresh start out of the old, traditional techniques with subtle layers of volumes, textures and cuts are pleasurable pursuits in which we can enjoy master craftsmanship made relevant for a sophisticated textured fashion that feels desirable and easily wearable. This is what is so much needed to remedy to the disappearing of so many traditional master craftsmanship whether it be in France or elsewhere.
For her Winter Fall 2014-2015 collection that has just been showcased,  Christine Phung invents her ode to Nature, to mountains and to the sense of togetherness with it and with the loved one. As usual, her references to art and architecture are there as she quotes the fashionable Charlotte Perriand whose figure radiates in the cultural world of today. From the designer, she unexpectedly quotes a wisdom saying that "Everyday life diverts us from the important things…"that could be read on the note given to the fashion audience.
The must have of her collection according to her? The cashmere and wool patchwork pull over that has been star-shaped like art textile marquetry. For this collection, master craftsmen have contributed to the designer's collection with Janaina Milheiro making amazing delicate feather design and Daniel Hurlin creating prints. Volumes are less clear cut, more related to comfortable sportwear, albeit still having this sophisticated allure with a care for fine embroidered fabrics whether it be cashmere or silk. "Her fashion is wearable, that's it", a man rejoiced at the end of the show.
For her coming summer 2014 collection that can now be found in stores in Paris or Noumea indeed, the capital city of the French special collectivity of New Caledonia in South Pacific, the designer takes us to a fashion journey into the mysterious underworld of water, subliming the emotional inspiration at stake.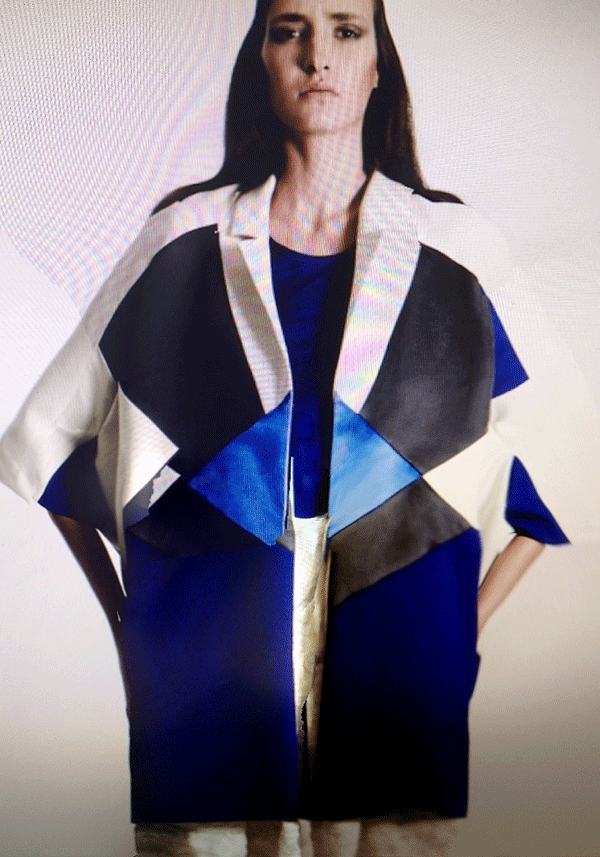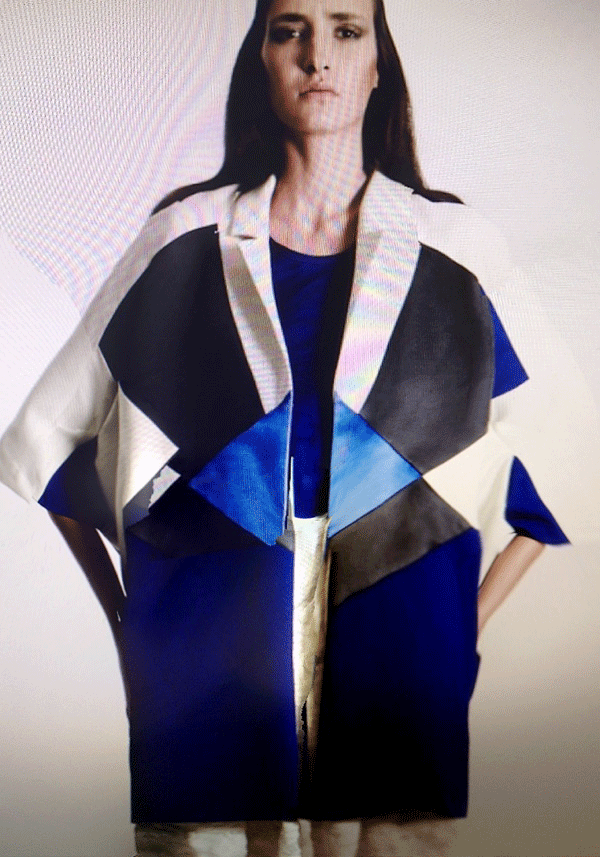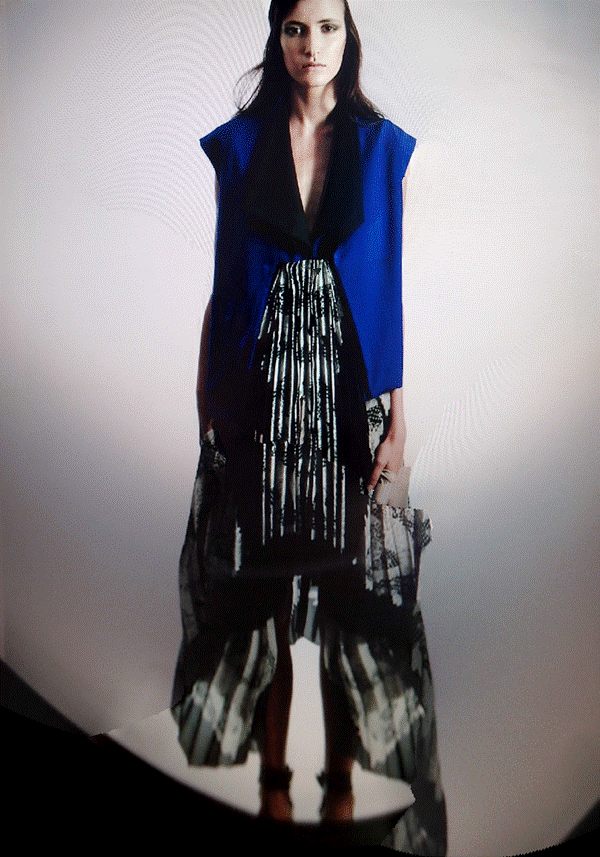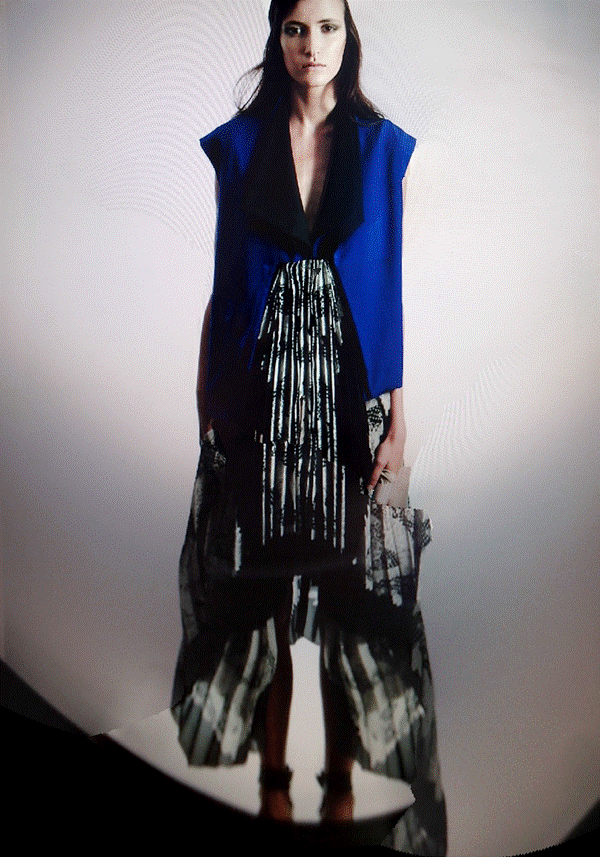 Her "Liquid Dilution" collection evokes, she explains, the journey of a young girl plunging into the water who, after feeling a delightful sense of detachment and abstraction while bathing in it, experiences the tricks of the light, creating shadows and images on her skin. The tricks of life were transposed in the fabrics with Christine Phung's ever still indulging in her sophisticated fashion fest with lovely blue brush strokes.
To know more and shop, have a look at Christine Phung's site.

by Stéphanie Bui, blogger, fashion editorial contributor and organizer of  behind-the-scenes fashion tours in Paris.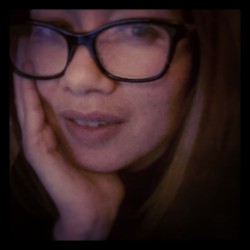 For information about the Daily Couture's Paris fashion private tours organized all year round (except August), visit our page dedicated to our Paris custom Haute Couture and Sur Mesure tours for professionals and private individuals interested in discovering this confidential world of French fashion, don't hesitate reading our Guest Book. The Daily Couture  by Stéphanie Bui – info@thedailycouture.com