Une bonne nouvelle à partager sur The Daily Couture : la Biennale Emergences dédiée aux métiers d'art et du design, et qui ouvrera ses porte demain jusqu'au 16 octobre, à Pantin, inclut dans sa programmation la projection de mon court-métrage documentaire « Les artisans du rêve » récompensé du Prix Patrimoine au Festival International du Film sur les Métiers d'Art 2016.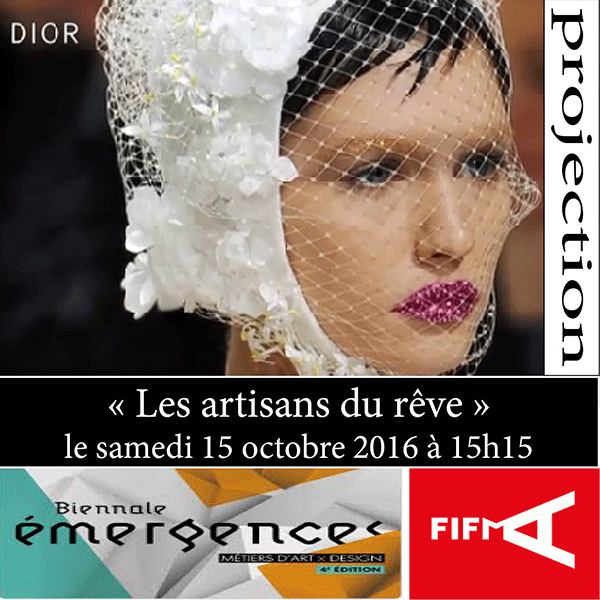 Comme précédemment écrit, j'accueille la bonne nouvelle aussi comme une reconnaissance de la fibre pédagogique qui anime non seulement ce film mais aussi les articles et diverses missions réalisées avec The Daily Couture en vue de sensibiliser le public et les professionnels à la singularité des métiers d'art de la mode.
La projection aura lieu le samedi 15 octobre 2016 à 15h15. Elle est accessible avec la présentation d'un billet gratuit à réserver ici : http://bit.ly/2cZBqNp
Au plaisir de rencontrer ceux d'entre vous qui y assisteraient !
-par Stéphanie Bui
Notes :
Des Parcours du Paris de la haute couture et du sur-mesure sont proposés par the Daily Couture. Pour les passionnés des savoir-faire d'excellence et rares de la mode et d'un Paris à découvrir, en toute convivialité, au fil de rencontres avec des créateurs artisans ou fournisseurs d'exception des maisons de mode ! Pour les informations, contactez-moi : stephanie@thedailycouture.com