Pour commencer une semaine autrement…par une parenthèse enchantée dans la vie d'un atelier de couture d'exception ! Et pourquoi pas, car les vacances scolaires peuvent signifier pour certains le moment venu pour s'immerger dans ce qui sort de l'ordinaire, dans l'univers de la haute couture…
Êtes-vous disponible le 28 avril après-midi? Êtes-vous passionné par l'univers de la création d'exception? Pouvez-vous être à Paris ce lundi 28 avril prochain ? Si, à toutes ces questions, c'est un grand oui, eh bien vous pourriez avoir envie de rejoindre quelques-uns d'entre vous qui ont missionné the Daily Couture pour réaliser un souhait, parfois un rêve, parfois pour soi, parfois pour un être cher. Tout une responsabilité. Nous réaliserons ces vœux le lundi 28 avril avec un rendez-vous dans le cœur de Paris.
Partant pour nous rejoindre pour cette expérience?  Discutons-en! Laissez-nous vos coordonnées et téléphone à info@thedailycouture.com The Daily Couture vous expliquera ce que nous vous avons concocté.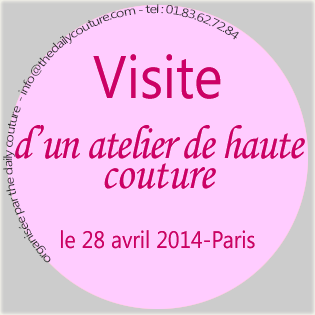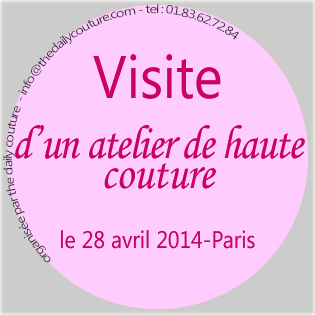 Enfin, si vous n'étiez pas disponible cette fois-ci, ce n'est que partie remise, peut-être. Car, bonne nouvelle : the Daily Couture vous annonce la possibilité de visiter un atelier de haute couture les vendredis.
La fin de semaine arrivant, n'est-ce pas le moment de se faire plaisir en s'offrant à soi ou à un être qui nous est spécial  ce cadeau destiné à celle ou celui qui, un jour, s'est dit «  Qu'est-ce que j'aimerais visiter un atelier de Haute Couture !  »
The Daily Couture fait sienne cette mission et fera des pieds et des mains pour réaliser ce vœu à l'attention de particuliers intéressés par cette offre plus accessible que celles conçues sur mesure.
La nouveauté par rapport à notre visite sur mesure? Elle vous sera dévoilée sur notre page dédiée très prochainement. En attendant, n'hésitez pas à lire notre Livre d'Or !