« Everyone has their own lifepath. » This is how Magali Le Naour-Saby, actress and dancer, evokes her life. As a model participating in a Parisian fashion show, she is modeling in a wheelchair among able-bodied models.  But it is in Germany that she lives.  There, she managed to live her passion to the fullest within a professional theatre company made up of arrists with and without disabilities.  The auditions are very difficult for everyone.  No pity! And at the end: the joy of doing what she likes!  This is impossible in France because such companies do not exist here, she says.  Complaining, presenting yourself as a victim is irrelevant for her. We will see Magali in her first film in the cinema, Indesirable, in October.  Her saying a great yes to all that life offers is her life motto, and it does good to her.  A will to live to the fullest,  with enthusiasm, that was found among the actors and participants of HandiFashion Paris, a fashion event created in 2012.
« The theme is fashion for all. We want to raise awareness.  Fashion is not perceived as a priority in the world of disability.  People who accompany the world of disability will say they have other priorities: accessibility, work… », excluding themselves from the world of fashion, Corine Tonarelli regrets. 
Journalist and consultant, she initiated the HandiFashion project with the impetus of Charly Valenza, president of the association Choisir sa vie (Choosing one's own life). The aim of the fashion show is about highlighting the interest in fashion from people with disabilities and to revive the interest in fashion among those who have ended up excluding this pleasure from their lives.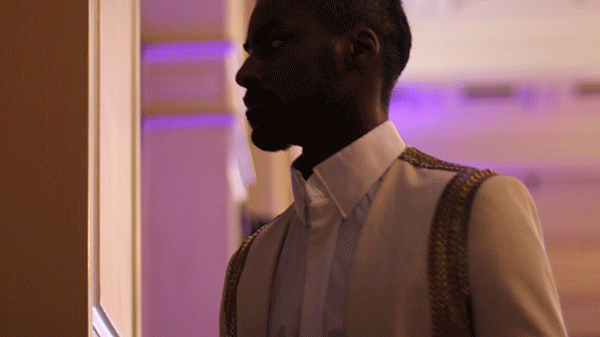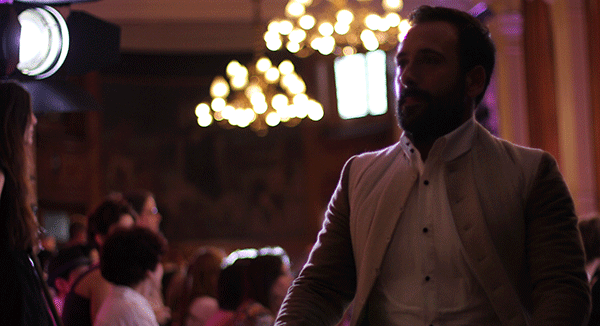 In the photographs bringing together professional and amateur models, disabled and non-disabled, some are public figures such as Michael Jeremiasz, above, a professional disabled tennis player who was world champion in singles and doubles and several times medalist at the biggest tournaments. And it's not over yet! Below, in red, Magali Le Naour-Saby whose film,Indésirables, will be released in October.
Two objectives are mentioned by the founder of HandiFashion: to integrate the idea of fashion for all into modeling and to raise awareness among people with disabilities so that they can say: « I too will be interested in fashion, and not separate from the world. 
« Just because you're disabled doesn't mean you have to consider fashion shallow, » says Corine Tonarelli.
« I would love to see, in the long run, a modeling agency that would be interested in the disabled models.   There are some very beautiful people with disabilities. What interests us, insists Corine Tonarelli, is to create « a mix show of models with and without disabilities.  There are shows that are reserved only for people with disabilities, but we don't want to do that.  We want to create bridges between worlds that are still separate. This vision convinced Perceval to make his very first casting for the occasion. 
« I found the project of mixing both people with and without disabilities interesting.  Even if you have a disability, even if you are in a wheelchair, you can be beautiful to look at…Up to you to manage to have charm! And Perceval concludes: « It's very rewarding because we see a lot of people coming from all walks of life. We all have our own history, a journey. »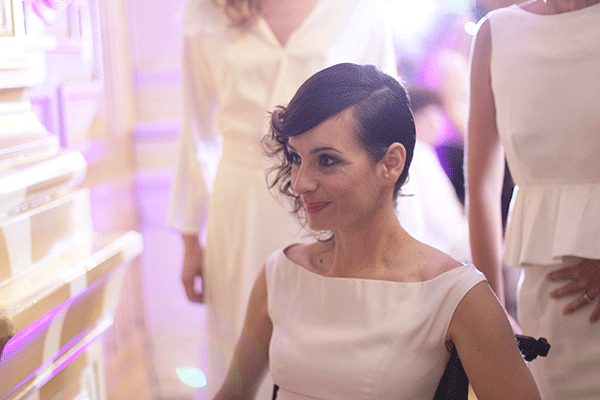 AT THE BEGINNING: STUDENTS WHO WANTED TO WORK ON « A FASHION PROJECT THAT FEELS GOOD »
Immersed in the world of disability since her meeting with Charly Valenza, himself disabled, Corine Tonarelli created HandiFashion in April 2012 in Southern France, in Aubagne.  While teaching a tutored project, she was asked by her students to work on « a fashion project that feels good ». She then had the idea of HandiFashion with the impetus of Charly Valenza, whose daily life is familiar to her: she was writing a book about his life.
The HandiFashion event met with great success. The project was then taken over in Paris by students from the Institut Supérieur Spécialisé de la Mode, MOD'SPE, specialized in fashion marketing who organized the Paris edition.
With this second Parisian edition more focused on couture than the one in Southern France positioned ready to wear, HandiFashion has become a special event, now labelled « Week against discrimination and for equality » and winner of a trophy from the Fondation SNCF in 2013.  Students now have the support of professional fashion actors such as the French Federation of Women's Ready to Wear, the DEFI and the ADAPT.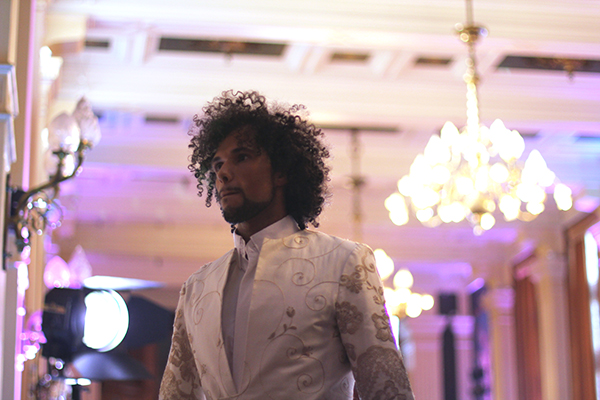 CALL TO THE FASHION INDUSTRY TO TAKE INTO ACCOUNT THE DESIGN FOR PEOPLE WITH DISABILITIES
HandiFashion's message challenges the fashion industry, more precisely on the images it projects in our daily lives.  To highlight aesthetics, HandiFashion models are dressed by designers who do not specialize in clothing for people with disabilities. Thomas Derien, Majesté Couture, Anna Ruohonen and Rainbow People are the fashion designers who are part of HandiFashion's adventure.
« If we raise awareness among the young generation of fashion designer, perhaps in a few years' time the clothes specially designed for the disabled person will be more beautiful, »Charly Valenza hopes.
What about designing clothes that make it easier to put on? What about focusing on the few handicapped models in the fashion industry? Last but not least, what about designing clothes for the people who are confined to « adapted but not very beautiful clothes? » he asked.
However, the question depends on the type of disability. Fashion craftsmanship also exists to meet not only the needs of haute couture houses but also the specific needs of individuals, provided they can afford it.  The know-how of boot-makers, for example, is put at the service of orthopedics.  The Massaro boot maker integrated into the Chanel group, for example, has been recognized for this service since the 1960s.  Similarly, women are calling on lingerie master artisans for custom-made or even experimental pieces such as the idea of a unique asymmetrical breast bra for women who have suffered from breast cancer.  Let us take a different look at the body and let us give it an attention combining comfort and aesthetics. Relieving the body is also one of the prime missions of artisanal skills.
« A person with a disability has the same right to be well dressed as an able-bodied person, » insists the president of the association Choisir sa vie. I am sure that in the world of modeling, girls and boys with disabilities can be supermodels.  We have to change the way we look at it all.  Many people have told me that they are participating in HandiFashion to change people's perceptions."
A huge challenge lies ahead as the fashion industry continues to conform to a highly calibrated notion of beauty models that reflect the needs of targeted consumers by brands. Until recently, Naomi Campbell pointed out the rarity of black models today and the racism in the globalized fashion industry.  We are still at that point.
Information about L'Association Choisir sa vie
HandiFashion on Handicap website