What we have here is a collection from Maison Martin Margiela Haute Couture Fall Winter 2011-2012, with all its presentations in Paris … and with a traditional collection called « line 0 » where right before our eyes, since 1989, fashion shows show off their unique creations made from these recycled materials. From all around the world, rather! Clothing, accessories, used items and sometimes new ones.
« Line 0 » has its name in order to symbolize the original act of creation – the moment where everything starts. This is how we see the essence of creation: a blend of technicality, of boldness, and a sense that differs from the everyday interpretation of brands and labels. Here, Goin' Green earns its deserved glory. Thereby, we were all informed of the origin from which they came. This goes for all types of materials and the hours of work one had to put in to make it.
Whether or not we love the different pieces, we're charmed by the idea that these works were created like artworks—and eco-friendly ones at that! The blazer, shown below, hand-made, is cut from transparent synthetic horsehair. The pants are cut from a sheer nylon. The completion time? 25 hours. The structured cut of the blazer is well emphasized while providing fluidity and lightness of an angelic drawing of a perfect silhouette. Sublime.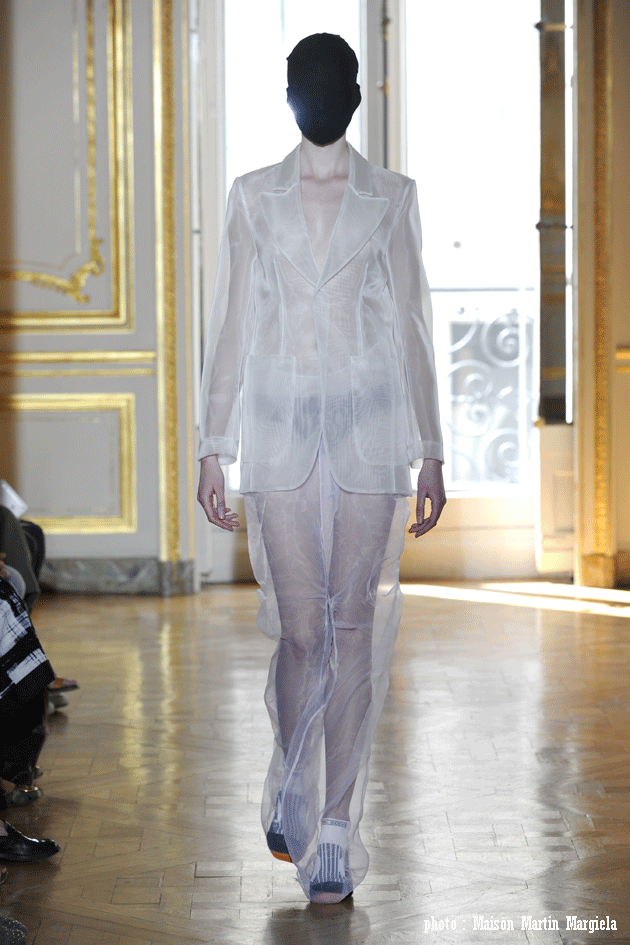 Conveniently presented in the Hotel La Maison Champs Elysées whose the interior design was made accountable to Maison Martin Margiela, the pieces are a reflection of the hotel. They combine minimalism and use of expertise looks of the future. The creations captivate the eye with their vision of haute couture, where the traditional skills of tailoring rub with new materials for unusual effects. White, the same color as La Maison, can be found everywhere around there: men and women of the house dressed in white blouses, and white linen, and dress the furniture of La Maison the same way.
We are immersed in this born luxury between a creative team and savoir faire group of artisans of the noble Parisian couture. With humor and a happy lack of nostalgia, new materials, (yellow construction tape as an example), is used on this blazer by adding translucent strips of the material. The long skirt is cut in rust cashmere and assembled with black duct tape. The time for completion of the blazer and skirt? 52 hours. It leaves you curious as to what it would feel like to be wearing around tape on your skin!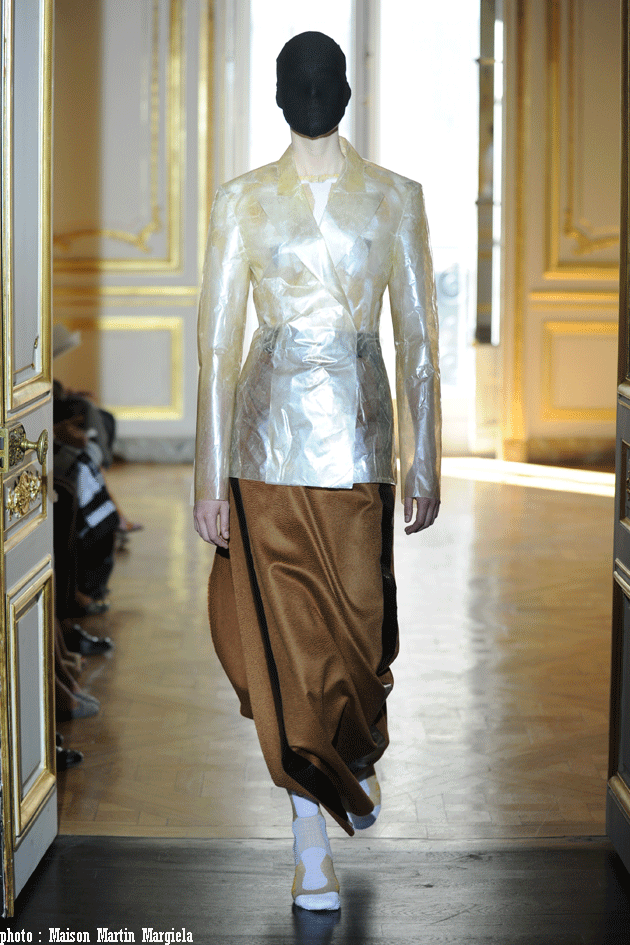 As shown, this hand made blazer is made from horse hair and synthetic transparent fabric which comes from a hand made English bespoke 1960's blazer orignally created in famous Savile Row in London. It finally comes out with a traditional and convenient construction of a classic tailored blazer. The garniture is over-embroidered. The pants and the over-skirt are cut in nylon curtain fabric and fixed with black duct tape. The time of completion of the blazer, pants and skirt? 89 hours.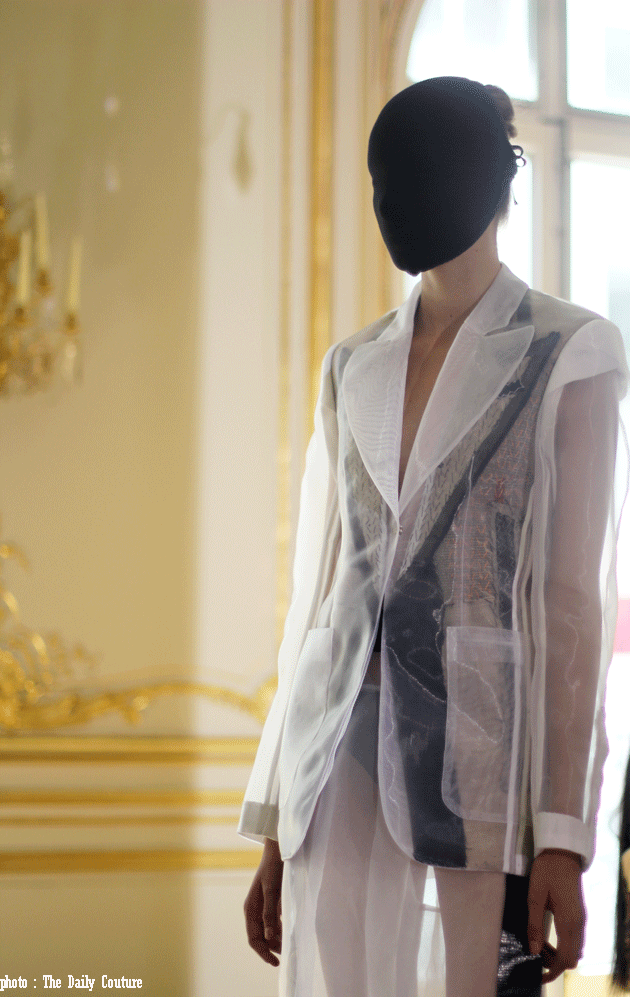 This black leather biker blouson was designed from three perfecto colored leathers then cut into strips, glued, and finally reassembled in order to highlight their main characteristics: the zips, reinforcements, belts and pocket details. The completion time of perfecto, pants and skirt? 91 hours. The back cuts stress particular parts of the body to reshape and structure those parts that are hidden, revealed, and suggested.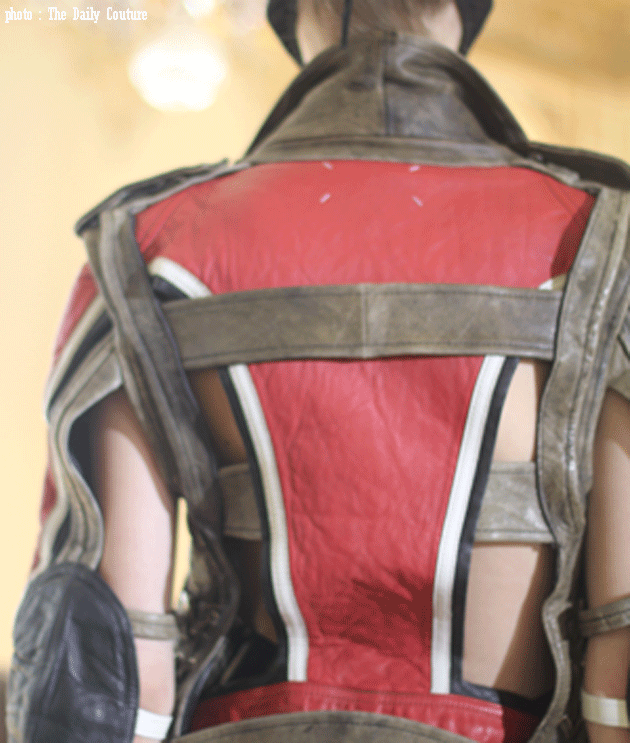 [:]

This parka is the result of the recycling of four backpacks cut and reassembled to become an oversized parka with a sheepskin collar. The time of completion of the parka, pants and skirt? 61 hours. A funny idea that seems to work: by looking, this parka's hot! By just wearing, we imagine!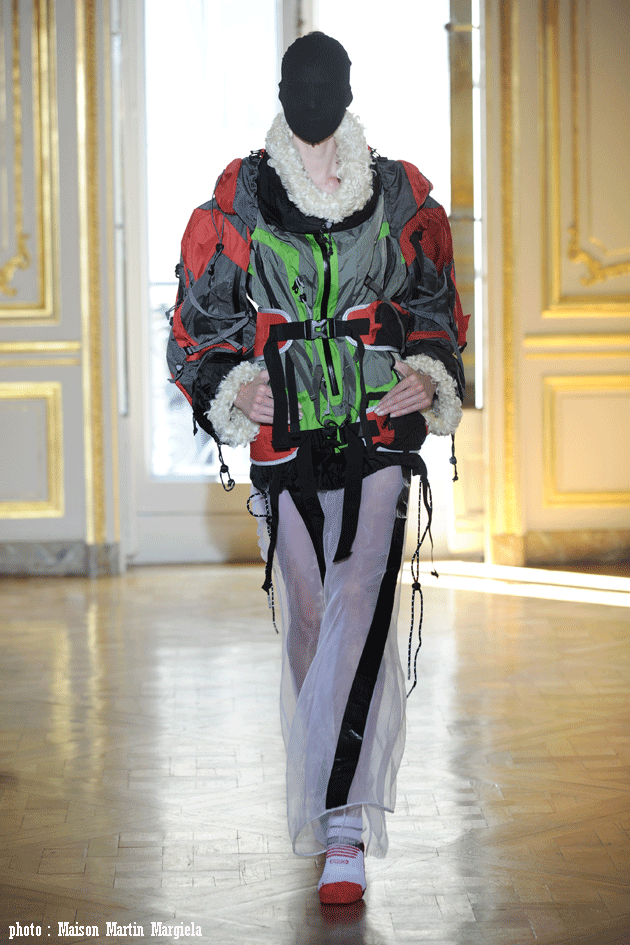 Here the skill of craftsmen defines high fashion luxury, and it's soaring: wool, cashmere, leather, nylon, horse hair synthetic adhesive tape and PVC parts become transparent fashion. This high fashion and "high recycling" are only two steps away from the noise and hype of the Champs Elysées. And a tribute to the skills of the artisans of Parisian luxury reveals their ability to innovate with other materials and solve technical problems if they are taking up the challenge!
Until next time,
Translation by Camille Davis