Thanks to both its incredible sustainable and technical attributes stimulating the development of eco-high-tech products with a flax base, the European flax life is booming with creativity, gaining the limelight among designers. Let's focus on the European linen, regarded as the best one in the world. Benefitting from a humid climate with narrow thermal range, flax seeds grow best in European soils providing the highest-quality food grade flax seed dedicated to linen fabric as well.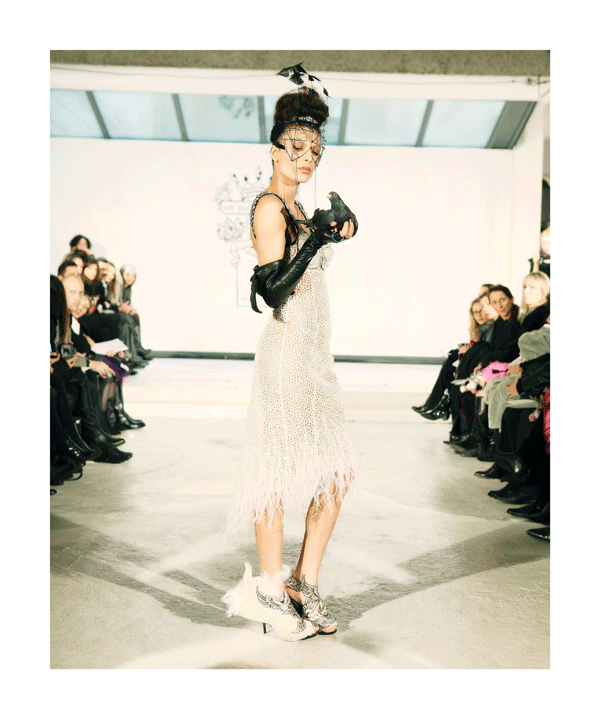 ©OATV
The fiber is gaining a facelift among some fashion designers.
On Aura Tout Vu
explored it for their Spring/Summer 2011 collection with this hemstitched linen short lace dress, embroidered with crystal and feathers and braided with black satin. This unusual work with linen was made possible thanks to the designers' collaboration with
the CELC Masters of Linen
. Linen got rid of its inherent weight and gained in lightness for an ethereal, sensual silhouette to play with!
The uniqueness of the European flax life also lies in its organization as an industry at close proximity, with a trickle-up mindset empowering all its players perpetuating the local and artisanal know-how transmitted from generation to generation: farmers, scutchers, spinners, weavers, knitters, finishers and traders. As a result, everything is known about the fiber, from the farmer who plants it to the trader who sells it! With raising sustainability awareness, this bottom-up management model united with the fact that linen is a 100% sustainable development vegetation fiber. This is what makes it efficient and attractive to all the people discovering where the European linen does in fact come from. This is an outstanding case of transparent traceability of a fabric within the textile industry.
Below are other examples I like and that show more conventional uses of linen, presented for Spring/Summer 2011 with Emenegildo Zegna, Etro and Hermès.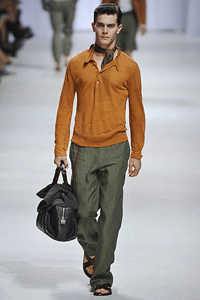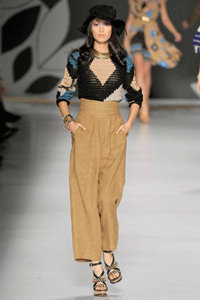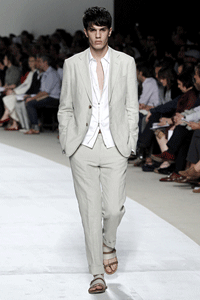 LINEN, A SUSTAINABLE FABRIC: « BE LINEN! »
Once you've discovered this fabric, you won't forgets it! This is what the Confédération Européenne du Lin et du Chanvre (CELC) team explained to me. The CELC speaks for 10 000 companies from 14 E.U. countries  making them the world leader in flax production. And what they told me is true! I, myself,  just could not believe my eyes and ears when I learned about the organization of the industry, the very fabric itself and the research made to further use the fabric in design. Above all, however, I was attracted by the values promoted by this one fabric and the master craftsmen perpetuating this know-know: naturalness, sharing, quality, innovation and traceability. The flax fiber is doing well by doing good.
Today, the European flax industry is being approached by R&D divisions of companies (specialized technical institutes, universities and the European Union ) wishing to promote a more sustainable way of life, by its "Be Linen!" program to make linen better known.
In light of this context, one is stunned to learn that linen represents less than 1% of the worldwide fiber industry in spite of all its great qualities, which include :
– zero irrigation (it only needs rain)
– a natural, entirely mechanical transformation process (retting and scotching)
– a lack of defoliant rejected into the environment
– no water pollution
– zero waste (all parts of the plant are used) and finally
– heat-regulating and hypo-allergenic.
China is the world's largest linen importer and France the number one producer of the fabric and the flax fibers in it… What the hell are European fashion designers waiting for to experiment with it?! The potential of all these fabric finishings made possible because of linen are just incredible… A trend book is edited by the CELC each year to make them known to professionals. Samples show sophisticated textures made of linen coupled with cashmere, silk, wool, metal etc.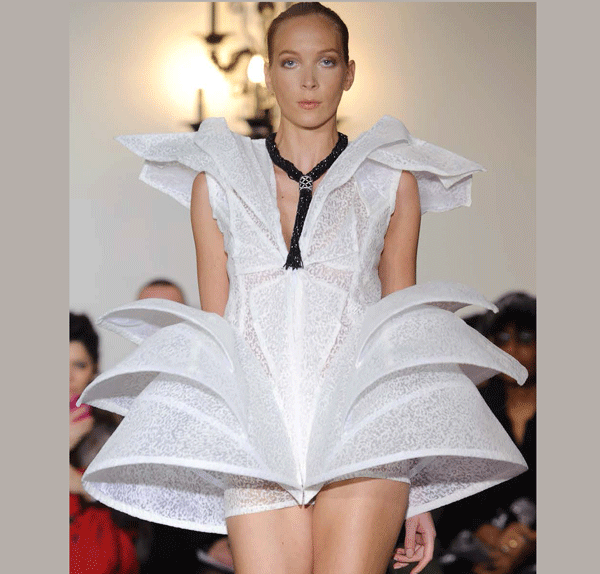 © Laurence André
Another great example of collaboration between designers and the CELC Masters of Linen is shown by the Laurence André Spring/Summer 2011 collection.  Transparency, stretch and metal finishings are explored with the Origami theme resting on the new technical possibilities offered by linen. The designer comments that pieces have been conceived as sculptures with folding techniques.
THE KNOW HOW IN GROWING FLAX FOR FABRIC
This agro – industrial organization is transmitted by artisan and home-learned folks who knows the tricks of the trade. Someone just doesn't just wake up in the morning thinking out of the blue: "Well…what about getting into flax culture for seed and fiber?" First thing's first, he/she would have to know that it is possible to do it in Europe, which many people don't know about. Second perhaps linen is mostly regarded as some imaginary fabric reserved for the stylish adventurer about to comfortably set off to some so-called exotic locations in the world…
So immerge yourself into the real life of European flax and have a look at this great 15 minutes long refreshing history of European linen produced by the European Union and France…get educated!
INNOVATING WITH LINEN
Each of us could increasingly deal with linen in the near future, with current experiments for sport, automobile or leisure use. One summer came the first racing boat to incorporate 50% flax fibers impregnated with epoxy resin (notably in the hull). This boat participated in the Mini Barcelona single-handed boat race. Its lightness, easy handling and resistance was made possible by the partnership between Libeco, Linéo, and Huntsman.
The first tennis racket in hybrid composite and made from flax and carbon fibers (for better vibration control) has been sold since 2009.  Skis made by Rossignol will soon be sold too. The fiber's resistance to shock and acoustic nuisance have led to other conceptions of prototypes or commercialized products such as a helmet for mountain bike, a bike itself, or some structures to reinforce car doors. To finish off, there's the conception of a wind turbine energy prototype, composed of linen fabrics impregnated with a 100% biodegradable PLA (plastic fiber) combining the required mechanical characteristics with lightness.
On the 30th & 31th of March 2011, a pair of averalls, (created by the designer Christophe Pillet, a linen manufacturer, Safilin, a spinner, and  Sergio Marchiado and Kim Laursen, two stylists) will be exhibited in front of the Bourse de Paris during the Made in France professional trade show dedicated to  French  haute façon manuacturers in fashion. The partnership was facilitated by the French government with R3iLAB willing to promote French savoir faire in light of innovation. These overalls were made in flaw roving, meaning what happens before the linen fiber are combed and mixed with other fibers and colors.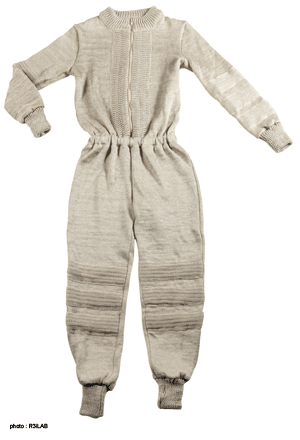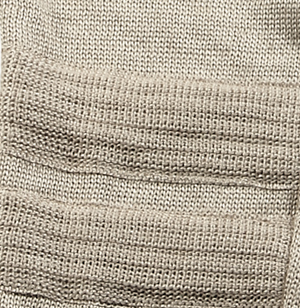 Innovation in flax fiber has not been 100% explored yet. The CELC's Technical Uses Pole and Textile Pole have a lot of work on their plate at the moment. Two products in flax composite won awards at the biggest composites exhibitions in the world (JEC Composites Show): this just confirms how innovative the fabric can be.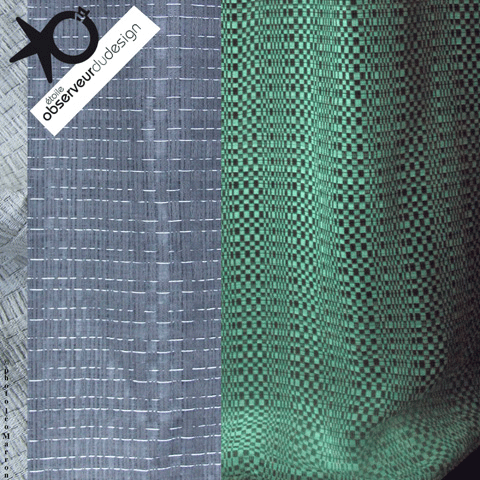 Here is a new enchanting fabric, called Lueur, that can be made by linen provided by Safilin or organic cotton. This fabric has been rewarded by the Observeur du Design in 2011, in Paris.
What it does is it loads up with daylight and then at the end of the day it reflects ambient lighting because of its retro reflecting thread. At night it gives off a light that shows the grain of the material. Easy to maintain and pleasant to touch, the Lueur fabric is to be used for interior design.
Even if the visionary fabric doesn't solve the recycling issue nor the need for electric lighting, the luminous threads enable the room to be lit without any energy source.
Still searching for a distributor,  the Lueur textile stems from the collaboration between the designer Brigitte Guillet dealing with biolighting since 2007, and ACT3, a French luxury weaving factory with 20 years experience working for fashion, haute couture and interior design. It also stresses the capacity of a traditional savoir-faire in haute couture to innovate in that hot design topics such as lighting.
Besides the textile and design applications for the linen fiber, the flax seed is also praised for the Omega 3 it contains in it, making it promising for future applications in food. We might find flax seeds in our yogurts or oils, for instance.  The seeds are also recommended for animal food, and its dust is recommended for horticultural compost. Even the flax seed's dust is useful! So, as Queen once said, if Another One Bites the Dust, well, nowadays that just might be useful.
Translation by Camille Davis
♥   Among our artisans partners, we have the Masters CELC of Linen who faithfully participates in our Paris Haute Couture Tour of Artisanry.
Discovering the world of linen is thus made possible thanks to the meeting with the Masters of Linen team during our custom tours of Paris Haute Couture.

For more information about our custom tours, please visit our page here and e-mail info@thedailycouture.com!
NOTES :
Agence de la Promotion pour la Création Industrielle – English