From February 7 to 9, fashion professionals will meet to conceive and create their collections at the Première Vision Paris Spring Summer 2018 edition, at Paris Villepinte. In addition to the six major industries supplying materials and services to the global fashion industry, including  yarns, fabrics, leather, designs, accessories, and manufacturing, the event  will also greet Maison d'Exceptions,  a highly creativity experimental zone that the Daily Couture have been enjoying visiting since its first edition.
Each year, the edition grows echoing a growing interest in amazing artisanal mastery as a great added value in a mass-produced global fashion market. There is much more than that: some ateliers happen to be the only ones creating what they do. As such, they are the problem-solvers to creativity challenges designers and luxury fashion houses are faced with. This year, the exclusive showcase by invitation-only welcomes 27 ateliers offering an international and diverse selection of exceptional techniques, exclusively set aside for fashion designers and luxury brands.
I am thrilled to have interviewed four teams of ateliers with rare know-how, possessing exceptional techniques that will exhibit at the can't miss event for high end fashion.
The "exclusive interviews" can be read here:
Yumé Péma, ultimate laser-work
"An exclusive interview with Mariane Léger, the founder of Yumé Péma, a sensory designer and an artistic artisan"
Seven Senses, an eco-friendly start-up reinventing artisanal denim
An exclusive interview with Andriana Landegent, co-founder of Seven Senses
Bee Luxe: Indian house of contemporary art-embroidery and textile exploration
An exclusive interview with Sanchita Ajjampur, founder of Bee Luxe.
Orylag, inventing a new French softness
An exclusive interview with Jean Boutteaud, President of the cooperative of Orylag breeders.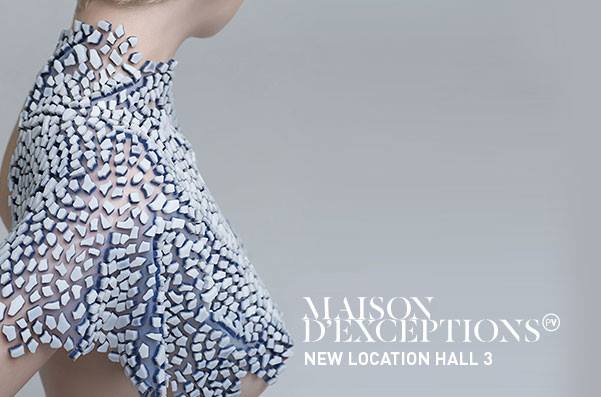 Last, besides Maison d'Exceptions, interesting events and conferences will take place :
-The Wearable Lab will be launched as a first edition dedicated to the emergence of a new creative and economic territory, which merges the spheres of fashion and technology. An exhibit of 10 inspiring, experimental works featuring clothing and accessories will testify to the  fast-moving developments in the Fashiontech scene over the past ten years: Sarah Angold (England), Ezra+Tuba (Turkey), Ying Gao (Canada), Nervous System (USA), Pierre Renaux (France),  Clara Daguin (France), Anouk Wipprecht (Netherlands).
– Conference: "Fashiontech, future scene or utopia?"
A dynamic and transversal event to further understanding of the issues at stake in the new Fashion & Technology territory. 5 experts on the subject reflect on the brakes and drivers behind this market, in order to jointly anticipate and imagine its future.  With Christine Browaeys (T3nel), Pascal Denizart (Ceti), Hilary McGuinness (Intel), Nelly Rodi (R3ilab), Anouk Wipprecht (Designer). Event presented by Noémie Balmat (Clausette.cc). Wednesday 8 February at 3:30 pm
-Conference: The Revival of Local Sourcing
In partnership with the IFM (French Fashion Institute), Première Vision is organising a conference to present a global overview of sourcing. The goal is to present, analyse and understand the issues involved in proximity sourcing, which, given international economic and political instabilities, tends to be strengthening in the countries that create fashion. Conference based on a study conducted by the IFM and presented by Gildas Minvielle, Director of the IFM Economic Observatory. Special guest : Mr. Karim Tazi, AMITH president (Morocco) Tuesday 7 February at 2:30 pm / Thursday 9 February at 2:30 pm
http://www.premierevision.com/en