─ Paris, July 2014, Haute Couture Week. Stéphane Rolland Haute Couture Autumn Winter Hiver 2014 – 2015,  Cinema Elysées Biarritz.
To which extent can a designer express his creativity within the media coverage of fashion?
"At one point I felt I was acting like a robot, I found myself of needing to go and see something else; I needed to create fashion with more freedom.  As a designer, the creative process needs to be expressed differently, " Stéphane Rolland confided at the end of his Haute Couture Autumn Winter 2014-2015 presentation.  The designer didn't want to proceed as usual and presented his collection as a film and the show as a premiere.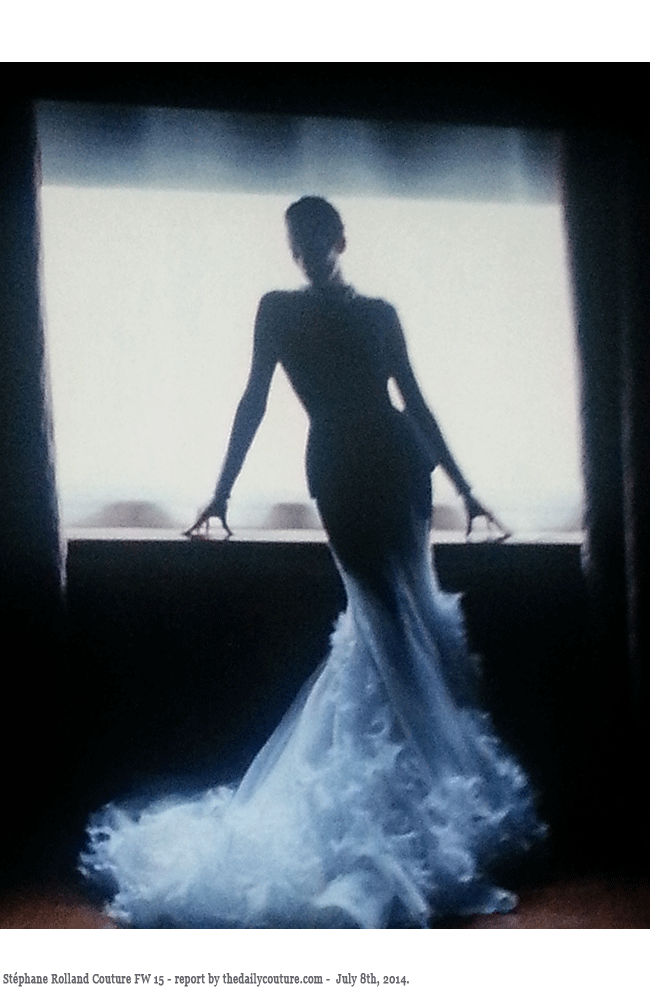 The designer who is part of the official Paris Haute Couture week calendar pinpoints one inherent clear-eyed question about the well-oiled fashion system:  to which extent one designer's quest for creativity can be preserved in the business of fashion?  For some like Anne Valérie Hash recently, it meant stepping back for a while from the fashion scene, putting her eponymous brand on standby, before coming back with her own vision of making fashion. For Stéphane Rolland, altering short film and runway show is his answer. "It's been a long time since I wanted to associate fashion with film in order to present my vision of fashion with more freedom. Mostly, this is about growing up by meeting many people, it's wonderful, I have the impression of learning everyday again like a kid, he rejoiced, whereas I had the feeling I was lagging within the usual expected creative process in fashion,  I now have other creative impulses."
Encouraging a commercial venture for his short film was definitively not Stéphane Rolland's objective who rather stressed an aesthetic statement. Making the fashion show sitting hierarchy upside down and forget about the so expected runaway couture show would be a courageous move for any couture house.
In a way, the designer is breaking fashion codes by making a film and still presentation rather than opting for the runaway show. However it seems that his decision rather stemmed from a question of survival for him in order to maintain his creativity, rather than any "antifashion" stance to make the audience question about the current fashion system.  The designer rather chose to preserve the experience of Haute Couture as a glamorous feat and heralded his fresh way of looking at creativity in fashion.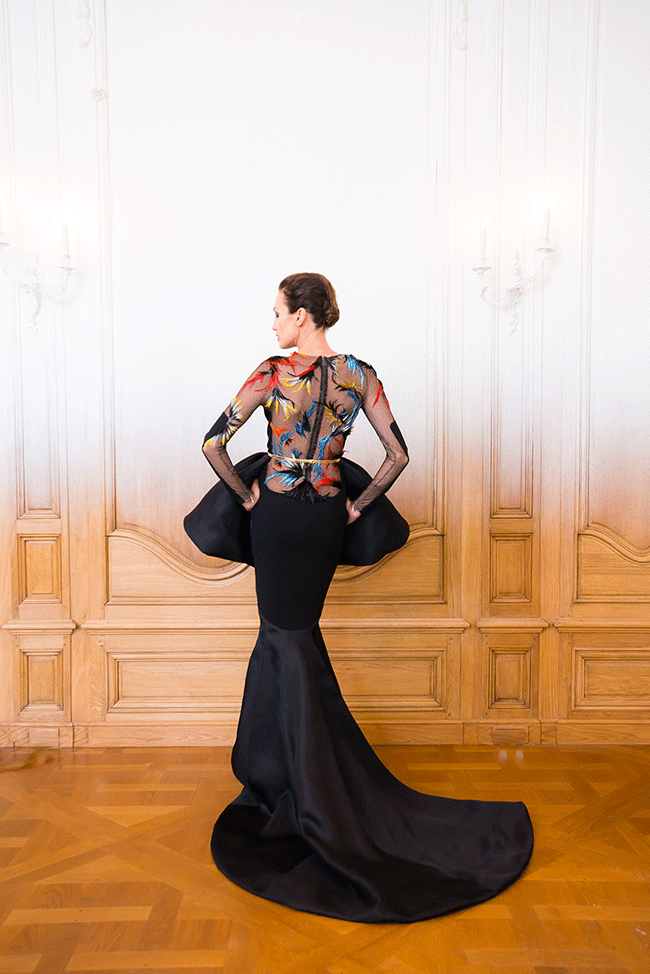 A short film as a creative act, not as a sales catalogue
For his first short film,"L'Echappée", he made with promising director Diane Sagnier, Stéphane Rolland absolutely wanted Nieves Álvarez as the Femme Fatale whose eyes would flash with captivating beauty.  It was a visually well-crafted film with a lot of blurry visions capturing  a mischievous  game of hide-and-seek between both protagonists. Nieves Álvarez and Jalil Lespert were playing opposite to each other. Of more importance to me though, I was expecting more details on what couture is about as well, meaning master craftsmanship. I wish the film would have blown us away with more close-ups on textures, feathers and details not seen otherwise.
What rather got my interest was how sincere the designer was in his approach: he precluded himself from turning his short film into a sales catalogue displaying his twenty haute couture dresses. Only ten of them were selected. The dresses are to support a message. For Stéphane Rolland, both the woman and the dresses are put in the limelight in a way that only a film can do. I guess this is all the more relevant in times of endless mobile shooting by non-professional photographers. We are our own best advocates, as the saying goes. Here you can watch the film.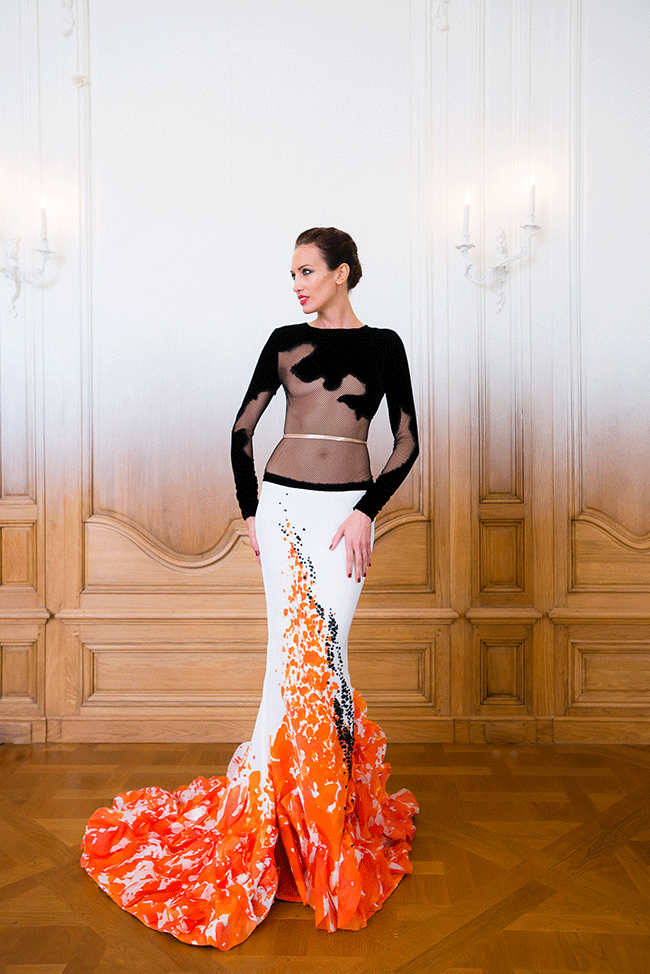 Being blown away with master craftsmanship by meeting with artisans and stylists.
Following the short film, the entire audience was invited to go and observe each of the twenty dresses with more detail. I felt that the icing on the cake was the ability given to all of us to discover the master craftsmanship that had been needed for each dress  and meet with Stéphane Rolland's whole team : from his assistants to the artisans themselves! This was quite a daring option to go. Stéphane Rolland admitted he had no idea whatsoever of how the fashion audience would be reacting, while stressing his belief in being sincere and having people enjoy a sincere choice.
« When hours have been spent on dresses that one can see only three seconds, that the cameraman finally did not catch the detail that you care for or that the model had such a gesture that did not enable the cameraman to reveal the piece as you would have liked, well, the designer confessed, I ended up kicking myself for keeping the work not recognized as it should have".
What the still presentation loses in glamor, it tops in the authentic experience it enables: we go back to the essence of Haute Couture as pure master craftsmanship rather than any stylistic exercise. That is to say it was a great experience for the Daily Couture!
In the media coverage of fashion as it is, meaning focusing on the silhouette leaving finishings unseen, how to distinct fast fashion from slow made fashion?  On the magazines or photo ads, the "fashion product" is always made desirable whatever it is: couture or fashion fashion. All in all, we have ended up being extra sensitive to style and silhouettes in our image obsessed culture. We lost connexion with the quality of fabrics and the art of textile design.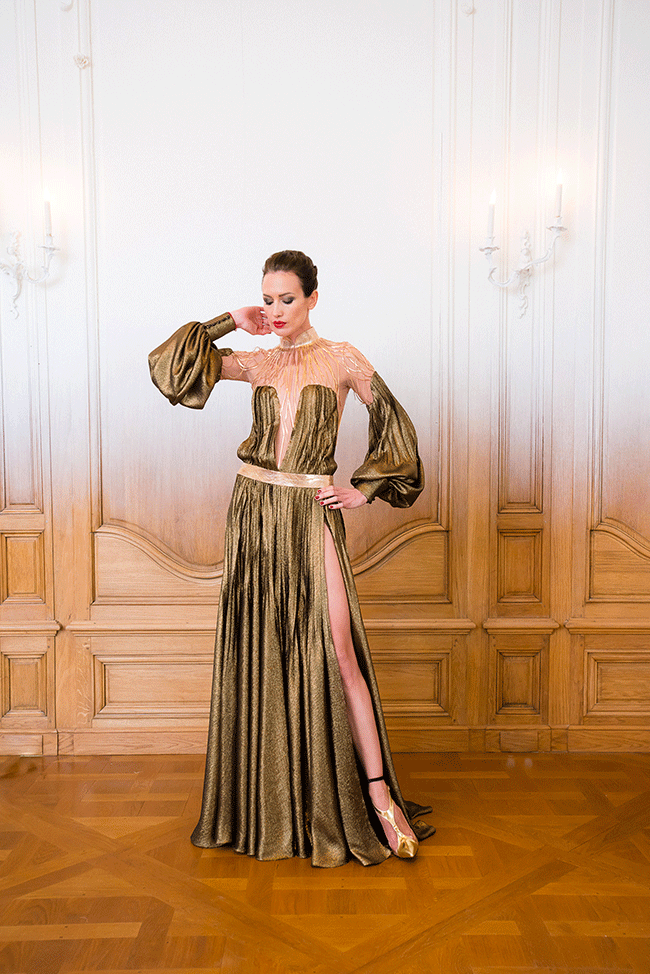 Knowing about fabrics, textile and color design is needed to understand what master craftsmanship is about.
Many master craftsmen working for haute couture are used to mentioning to me how the work of haute couture and master craftsmanship has become unknown nowadays. They regret the lost of good taste, refinement that requires a well-trained eye to materials, fabrics or colors among the public, the clients and even professionals.
It doesn't mean being yearning for good old days, but being able to still recognize the quality of materials and manufacturing processes implied when quality — and not only style — is expected to be met by luxury ready wear or couture brands. Haven't you ever noticed those overhanging threads from clothes exhibited in window displays? One master embroiderer for haute couture was showing me one portrait of an actress published in a well-known fashion magazine : her shirt's sewing wasn't done right ; the bad sewing job could be closely observed at on this one photo. The master embroiderer was pretty much irritated indeed at this being made possible nowadays. And yet, who else other than an artisan or seamstress can notice the bad sewing job?  No wonder that many know-hows are disappearing.  Quality has become recognized by artisans only.  Knowledge about quality is disappearing among clients and all of us indeed. In our image obsessed culture, the press, which could help raising awareness about how fashion is being made, prefers cultivating expertise in stylistic fashion postures.
Even though manufacturing process of haute couture remains taboo, there could be some raising awareness about it. I guess we'll get more communication about it by the fashion couture houses themselves as transparency has become key among in management issues for big industrial groups. In light of this context, Stéphane Rolland did echo to the need to have us more aware of the manufacturing process of haute couture.
With Stéphane Rolland's presentation, the fashion audience was given the chance to dream about haute couture with the film and, with the presentation, we could observe the haute couture dresses perfectly fitting the body, exalting the fabrics with precious detail made on them by master craftspeople as well.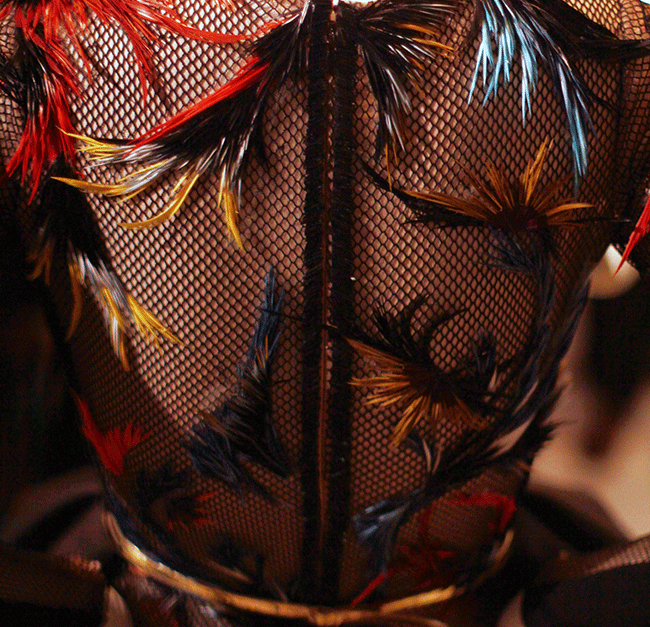 To enhance a keen eye to appreciate fabrics, textile and color design
Both Marie-France and Corinne, Stephane Rolland's assistants, experts in draping techniques for Haute Couture or "moulage Haute Couture" at the atelier, stressed how light the collection was.  I felt it was somehow reminding of what Stéphane Rolland mentioned about needing to feel freer now.  Nature has inspired the designer rather known for his abstract and graphic lines so far. The embroidered golden metal recalls those strict lines he likes. Mostly though, references to Nature were made with flowered shaped dresses made possible by flocking techniques and by feather design on body hugging stretch fabric conveying transparency and lightness in all. The difficult part, it was stressed, was to combine both stretch and non-stretch fabrics in such a way that the tension of the whole dress would be preserved and follow the movement of the human body. Non-stretch fabrics as velvet, feather and metal embroidery needed to technically match body hugging stretch fabric!  Finishing needed special care by all artisans.  All in all, the appearing simplicity of the dresses is misleading.
At the end of some of the dresses, some fantastic work was accomplished by Céline, one the stylists who also does research in textile design.  She managed to cut the already thin organza fabric in her own special way so that it would become feathers as thin as eyebrows!  "This is such a huge amount of work to do and it is so beautiful!", both Marie-France and Corinne exclaimed.  The atelier of twenty persons was helped by external and independent haute couture ateliers renowned for their expertise in embroidery, feather and flocking design.
"Most importantly to note, Marie-France and Corinne insisted, this is a team work: once we both have finished draping the dresses, we help the artisans at the atelier since we were originally trained as seamstresses or "couturières" as we say in French.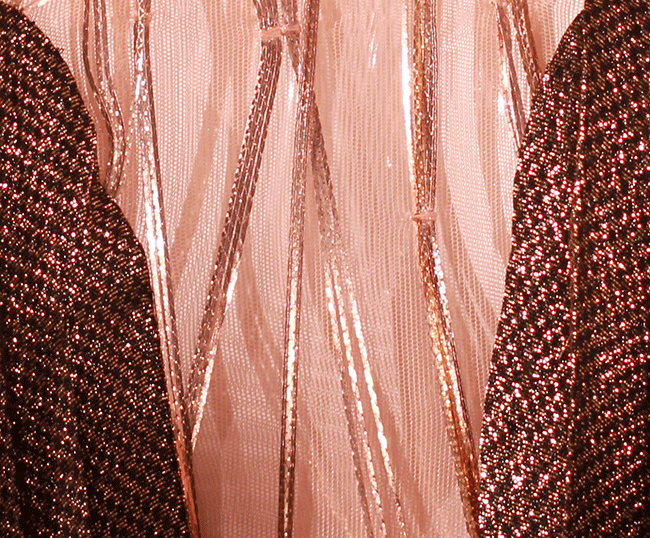 The need to raise awareness among the fashion audience about the art of haute couture master craftsmanship
Meeting the Stephane Rolland's team in such a simple and genuine atmosphere was great! I wish haute couture houses would coax the fashion audience into getting interested in master craftsmanship with more force.  The idea?  Raising awareness among the fashion professionals on the mostly left unknown art of haute couture artisans. Luxury brands have a responsibility in nurturing independent artisans working for them for they contribute to the work of their in-house ateliers renowned worldwide as well, don't they?

—————-
For information about the Daily Couture's Paris fashion private tours organized all year round (except August), visit our page dedicated to our Paris custom Haute Couture and Sur Mesure tours for professionals and private individuals interested in discovering this confidential world of French fashion, don't hesitate reading our Guest Book. The Daily Couture  by Stéphanie Bui – info@thedailycouture.com