One dress only — one that did count as a fashion statement in the history of fashion is a terrific achievement for one designer, even if pulling it off only once, Olivier Saillard insists as the curator of « Histoire idéale de la mode contemporaine », volume II, dedicated to the 90's and 2000's,at the Arts Décoratifs in Paris, until May 8.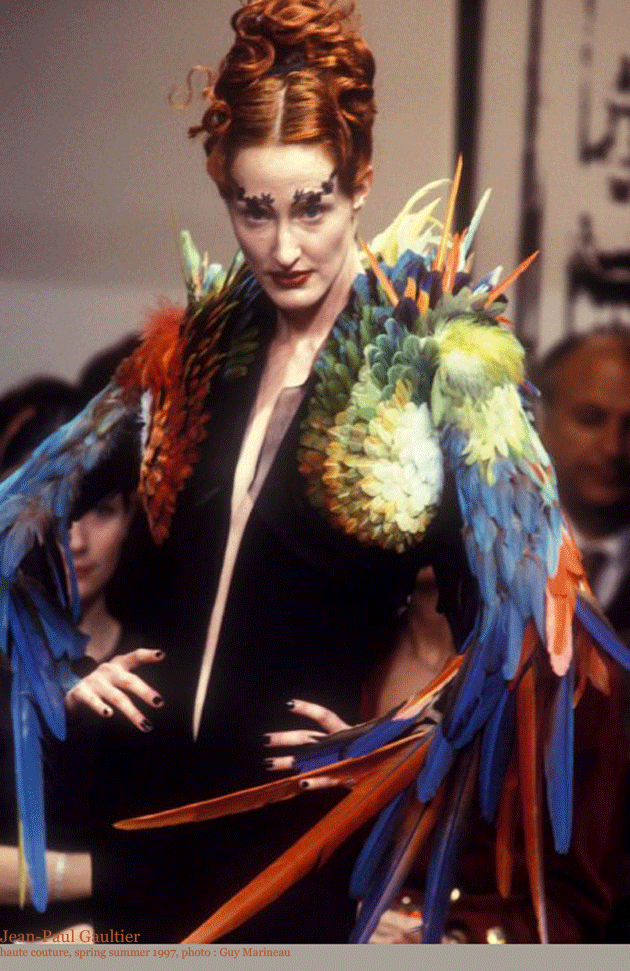 The dresses here need attention like the books, movies or music that mean a lot in their respective fields. 150 dresses have been granted the status of fashion design icons in this ambitious attempt to write an ideal history of fashion made by « authors – designers », meaning art directors with a vision of fashion, and not trend-setters only, however talented the latter ones might be.
The exhibition is about experiencing what is at the core of creativity in fashion: a style. Fashion does not always become unfashionable. It does not have to be about absolutely staying tuned…
The exhibition counts major and not so well-known designers provided that they have succeeded in cultivating a fashion statement, a full story that, according to the curator, proved to be a turning point in the fashion history of the decades.
Fashion is sometimes made timeless with pieces like this one, below, hailed as the "parrot bolero" out of the collaboration between Jean Paul Gaultier's creative singularity  and the disappearing  savoir-faire  in feather making by Nelly Saunier,  a master craftsman. A fashion masterpiece.
Unusual structures and volumes in dresses prompted Comme des Garçons style designed by Rei Kawakubo with this trio of dresses, or rather white and irregular round-shaped volumes we just want to touch and feel on our skins as the material seems so soft. We would wear these cloud-like or chewing-gum bubbles-like dresses.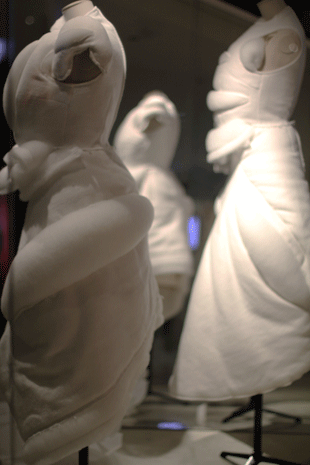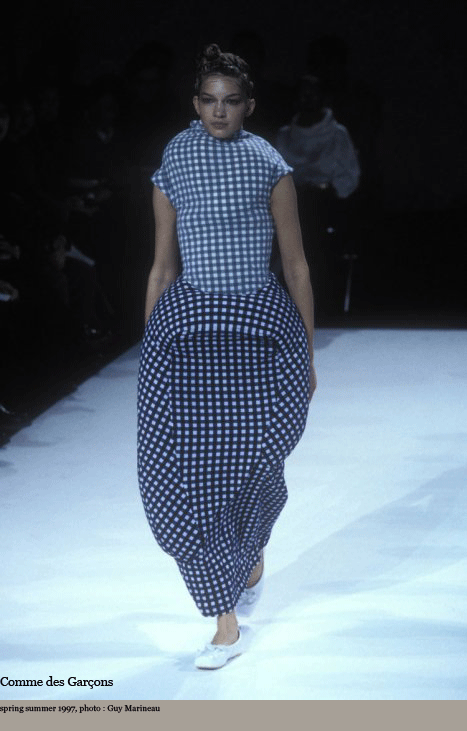 Look at Vivienne Westwood fashion spirit! Her punk and Do It Yourself vision of fashion is originally conveyed by highly complex and superimposed cuts all nourished with humor.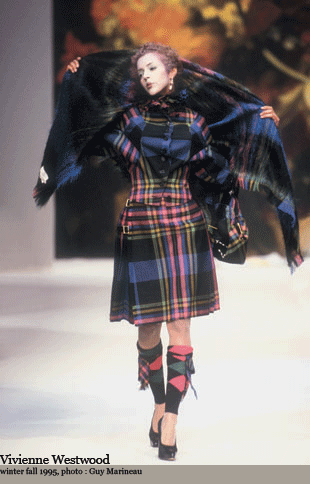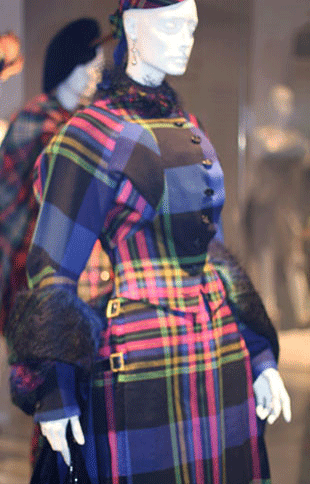 Azzedine Alaïa, both a great stylist and outstanding couture maker. He masters the art of dress-making like nobody else…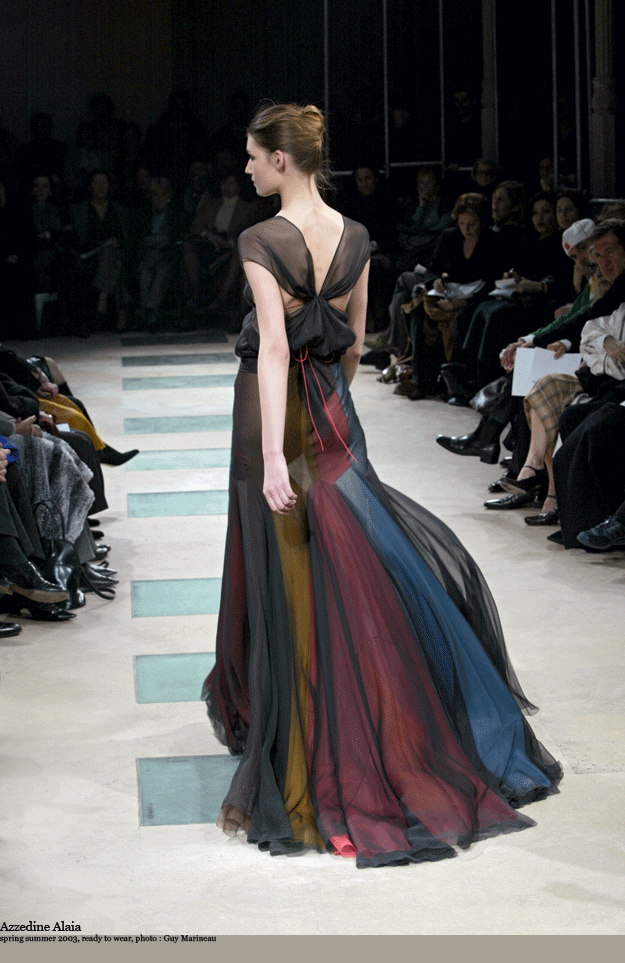 With E2, the duo made of Michèle and Olivier Chatenet, fashion design stems from vintage dresses they found and update.  Their idea of recycling fashion has been well ahead of today's hot concern for sustainability issues.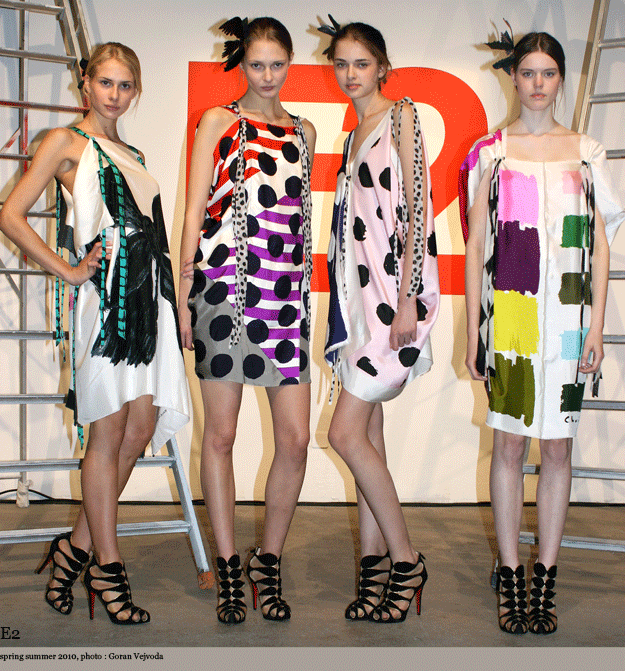 Christian Lacroix who also gave their chances to a lot of craftsmen to design for haute couture shows with jewelry, embroidery and other savoir-faire he differently revisited and used.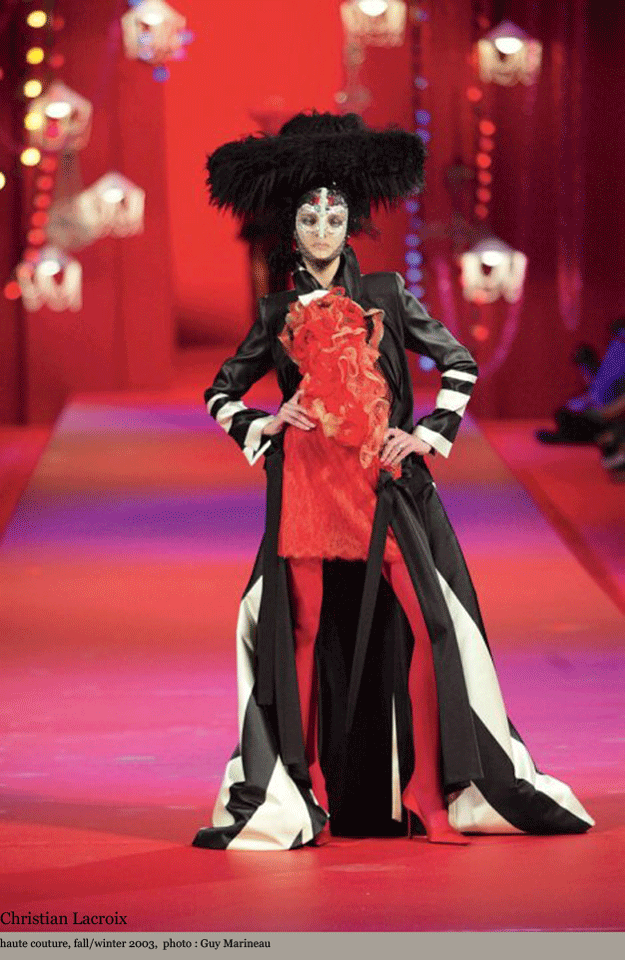 Martin Margiela, the designer who deals with concepts. An unusual personality craving for anonymity for himself and temperance in branding his company image in the glittering world of fashion. His « craftsmen-made collection » was paying homage to materials by injecting humor in their design.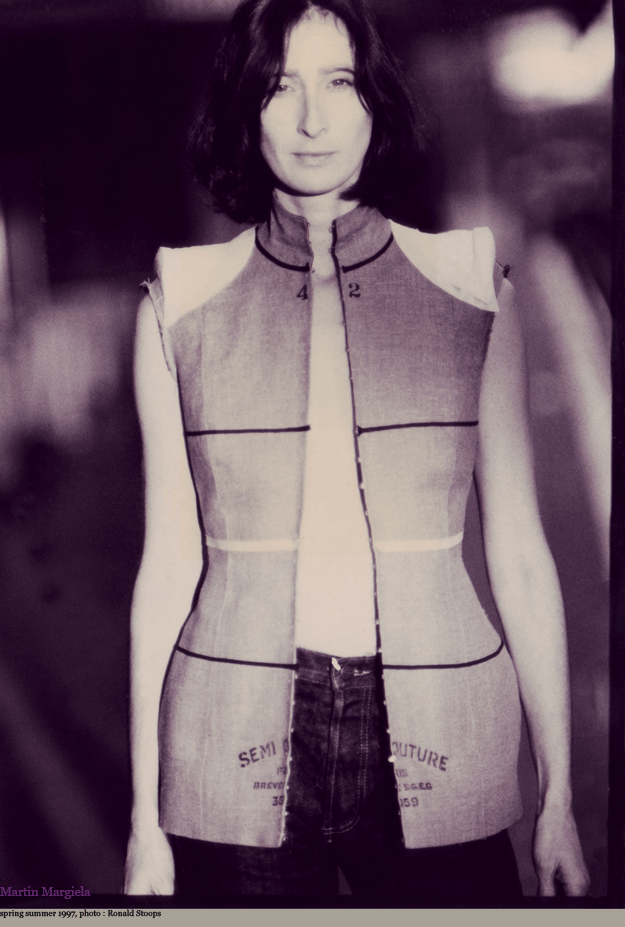 From my talk with Olivier Saillard, I note his regrets that fashion professionals  are neither paying enough attention to what is going in sportwear nor in streetwear, although this is where great creativity in fashion is taking place, according to the fashion historian. He quotes Helmut Lang  who did get interested in sport and streetwear, and whose pieces have been selected in the exhibition… He also mentioned how fashion shows are getting too numerous….
What about know-how and craftsmanship?  It is not only about haute couture  brands. « Look at the Vivienne Westwood pieces, he says, they are very well designed, sometimes even better designed than haute couture pieces. "Regarding craftsmanship, why bothering hand embroidering for hours when it can be done by machines?", he asked. Of course, using technology is not to be banned. Let's keep in mind though embroidering with sequins – very used for haute couture design – is not made possible with machines…
Yves Saint Laurent used to say he was designing clothing to be closely looked at and touched. What a pity the fashion pieces are separated from us by glass!  We are left with our eyes and mostly time to closely look at the pieces which were once part of a catwalk. It's well worth taking time understanding the work done with the pieces being exhibited for once.

Later,
by Stéphanie Bui
stephanie@thedailycouture.com
NOTES :
The exhibition at the Musée des Arts Décoratifs website