French Buddhist monk and photographer Matthieu Ricard – and ambassador of Lumix – has been capturing the decisive moment for fifty years, with his camera:  an art practice, and the fruit of a mind-training practice too.  So, when the expert eye for photography blends with a monk's own path towards the elevation of consciousness, one naturally expects the soulful art to reach an all-time high!   And, the « Half a century in the Himalayas »just provides that food for soul experience. Out of the blue, from observing the timeless beauty exhibited here, it turns out of that exudes what is vital in life, in this month of March in Paris where the city beats the measure according to the frenetic rhythm of fashion week.  Imagine arresting time and immersing yourself in Matthieu Ricard's world between two fashion runaway shows!  That's some timing.  Just like the special timing of this exhibition that means a lot to the library gallery.  The exhibition is finally presented after recovering from the infamous fire that destroyed the legendary Parisian place, before returning to the forefront of the photographic scene, last November.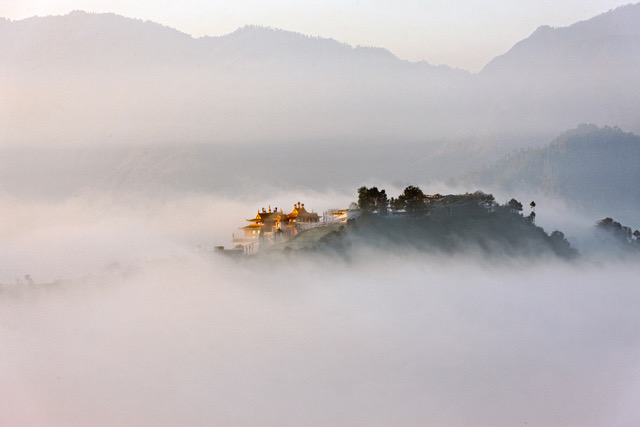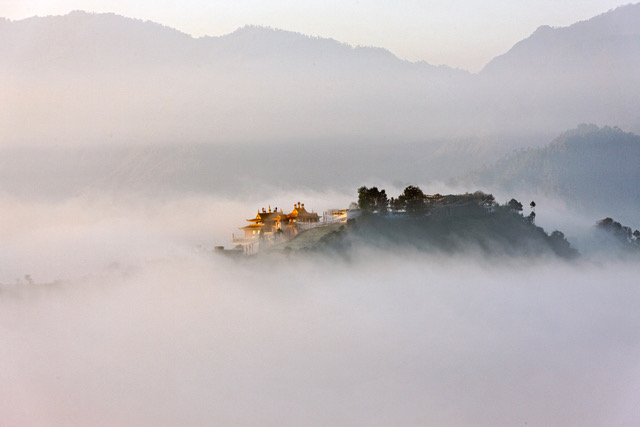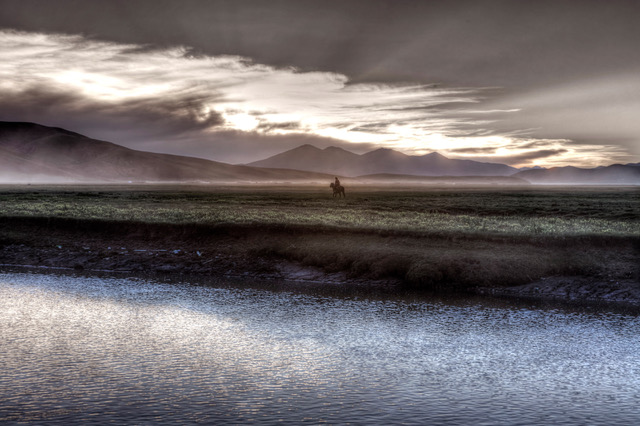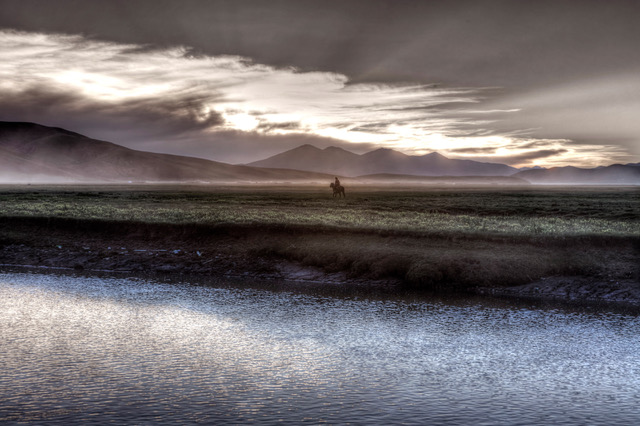 It took a lot of time to recreate, in Japan, new Awagami papers made according to the rules of traditional art, and redevelop new rare prints made in some western part of France, in Brittany, in order to sublimate this limited edition monographic series, to be discovered from February 28 to summer 2019.  We owe to this highly meticulous and demanding behind-the-scenes work to better highlight the ethereal and fragile beauty of Matthieu Ricard's art of capturing the moment.  The great coherence and well-dedicated support honor this first ever presentation of Matthieu Ricard's artworks in an art gallery now turned towards the exhibition of great names in photography.
« It is Matthieu Ricard as a photographer who interests us » insists Alexandre de Metz, co-founder of YellowKorner, who directs the Hune, admiring the photographer and « his way of capturing the decisive moment that is just unique ».  « He has been photographing for fifty years. Before meditation, he was already taking pictures. It's really his hobby, I mean », explains the man who has been working with Matthieu Ricard on photographic projects for twelve years. With YellowKorner, Alexandre de Metz has contributed to the promotion of a photographic work born from an intimacy with his photographic subjects and the people's lives he shares on a daily basis.  He resides mainly at the Shechen monastery in Nepal.  A Buddhist monk for 30 years, familiar with Buddhist monastic life, nomadic communities and magnificent landscapes, he got acquainted to great Tibetan spiritual masters such as Dilgo Khyentse Rinpoche, whose portrait must be exhibited at each of his exhibitions.  This is the only requirement imposed by the photographer. Surely, valuable teachings are embodied in these eyes looking at the annual sacred dance festival, from his window on the first floor of the Shechen Monastery in Nepal, in 1985. His smile radiates genuine simplicity and reassurance. What a decisive moment of great beauty! And the only portrait in this exhibition inspired above all by an abstract expression of the landscape.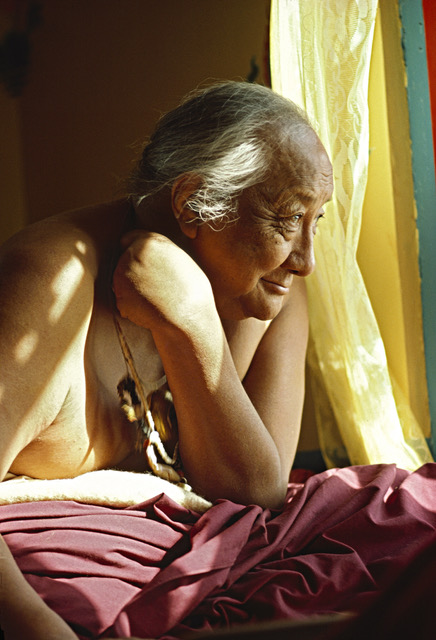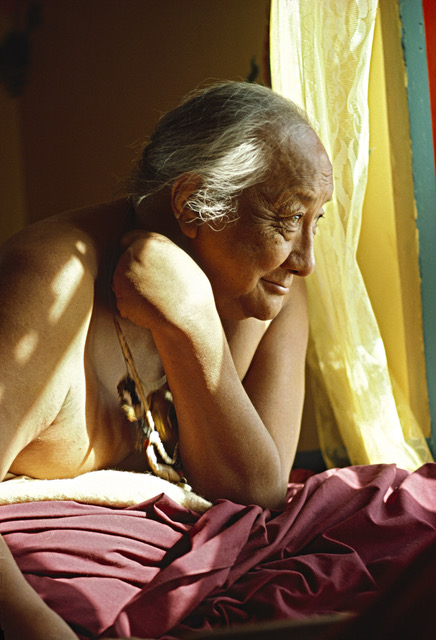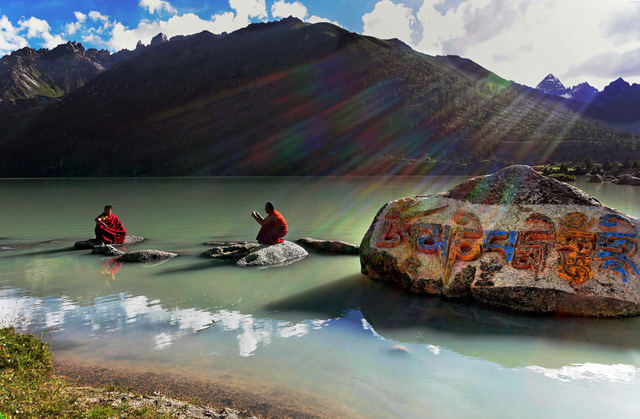 It should be remembered that the man who was to become a Buddhist monk whose voice would be put in the spotlight has always had a passion for photography. He has worked with some of the great names in photography such as Henri Cartier Bresson for whom: « Matthew's spiritual life and his camera are one and the same, and from which arise these ephemeral and yet eternal images ». The desire to express an « hymn to beauty » – as the Buddhist monk and photographer himself says – goes hand in hand with another kind of hymn: that of benevolent action.  Matthieu Ricard donates all his income – photographs, lectures and books – to the Matthieu Ricard and Karuna-Shechen Foundation. After 20 years of existence, the association supports more than 250,000 people each year in Asia in the fields of health, education, the environment and social affairs and plans to develop activities in Europe for the most disadvantaged.
In short, an exhibition that feels good in every sense of the word!
Exhibition La Hune x Matthieu Ricard • « Un demi-siècle dans l'Himalaya » from February 28th to summer 2019 •  Place Saint Germain-des-Prés, 16, rue de l'abbaye 75006 • Book 40€

Since 2011, upon requests,the Daily Couture organizes private visits to Haute Couture Artisans workshops in Paris that collaborate with the greatest Parisan fashion brands.  
For information about it, please send your request to : info@thedailycouture.com 

To know more about what can be organized for you, Our Haute Couture Artisans Workshops Tours organized by a Fashion Journalist will tell you more about it.
  
To go further if curious about it, our references clients and Guestbook can be read.

The Daily Couture is a media as well, and to get to know us better, about what we like to hightlight, here is our manifesto and story about how it all began :-)

Last, what about joining us on twitter @thedailycouture and instagram